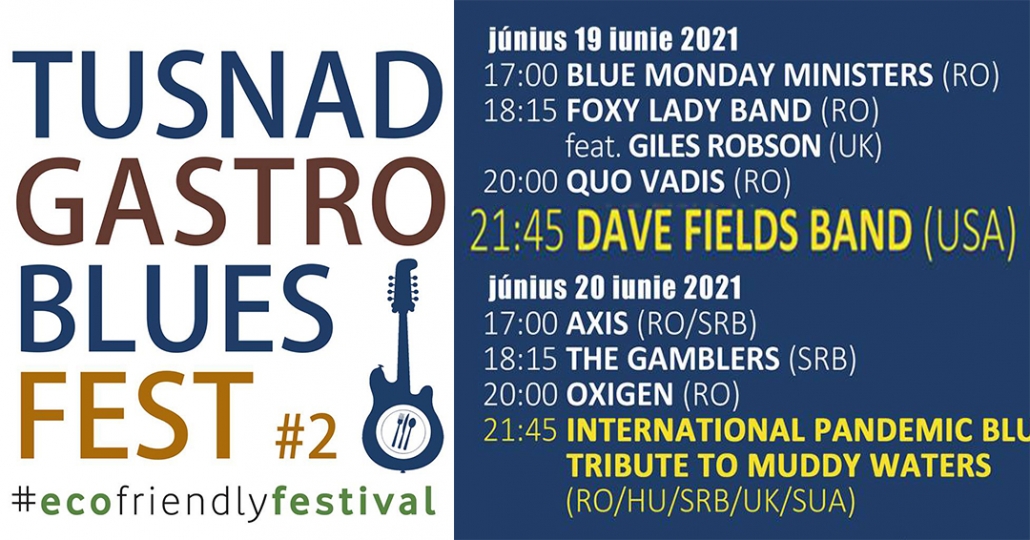 Wow, I gotta pinch myself! I know that probably none of you can make this show but I'm so excited about this:
This Saturday, June 19th TUSNAD GASTRO FESTIVAL Tusnad Romania my pal and amazing Romanian-US drummer Liviu Pop put this together for me. Bassist Tony Tino and I are going to fly to Bucharest this Thursday and then drive to Tusnad for my first ever show in Romania. It's not just a blues festival, it's also a food festival so I'm going to have twice as much fun sampling the local culinary delights. If I see Count Dracula I will play some BB King licks at him REALLY LOUD to scare him away LOL!
https://www.facebook.com/TusnadGastroBluesFest/
Please vote for me if you haven't already for best independent Blues Rock: BAND, CD AND SONG for "Force of Will" by MakingAScene.org. at this link!
https://www.makingascene.org/independent-blues-awards-2021-vote-now/
Video
Thank you so much for all the great comments on my latest video WHY CAN'T YOU EVER TREAT ME RIGHT live featuring: Buddy Allen/bass, Lee Jeffryes/drum and Vlad Barsky/keys. Shot live at Al Weber's studio in Nutley NJ Jan 2020. Please subscribe to my YouTube channel if you haven't already!
https://youtu.be/3wxDmpeYnQs
Here is the latest single from my Best I Can from my CD FORCE OF WILL
https://www.reverbnation.com/davefields/song/32635439-best-i-can
Upcoming NEW Shows
Friday June 25th at 6-9:30pm I return to Tambour 652 5th Ave, Park Slope Brooklyn's coolest/hottest music-restaurant for an evening of light blues, jazz and rock. Featuring myself along with: Bob Francheschini – sax (Victor Wooten Band), Nick DiFrisco – drums (Jaco Pastorius), Joey Lauricella – bass (Fodera Guitar Artist) and my pal and Berklee College of Music roommate – the amazing Alan Schwartz in guitar. 6-9pm. Chef Adam Torres has put together an incredible menu that will delight you! The show last week was magical. You won't find a more intimate place to listen to music and dine in Brooklyn. Outdoor seating is also available
https://www.tambournyc.com
Saturday June 26th American Trash 1st Ave NY NY reopens for music! I will be the featured guest with The Bluesy Dan Band. I can't wait to return!
https://www.facebook.com/American-Trash-NYC-120607608017323/
Oct 2nd TRIAD THEATER West 72nd St NY NY
There are more shows coming, I'm working STILL on it!
THANKS AGAIN SPOTIFY LISTENERS!
https://promocards.byspotify.com/share/d05e025c162a9fe110d91248b0798da8a78c66ed
Sending much love! Hoping to see you soon.
-Dave
Dave Fields Plays
Fodera Guitars
http://www.fodera.com
D'Addario Strings
Dave Fields Artist Page
Mooer Pedals
http://www.osiamo.com/Dave-Fields
Redplate Amps
https://www.redplateamps.com
https://www.davefields.com/wp-content/uploads/2015/06/davefeatured.jpg
172
499
davefields
http://www.davefields.com/wp-content/uploads/2018/06/davefields.jpg
davefields
2021-06-14 13:40:39
2021-06-14 16:44:18
Romania Bound this week!