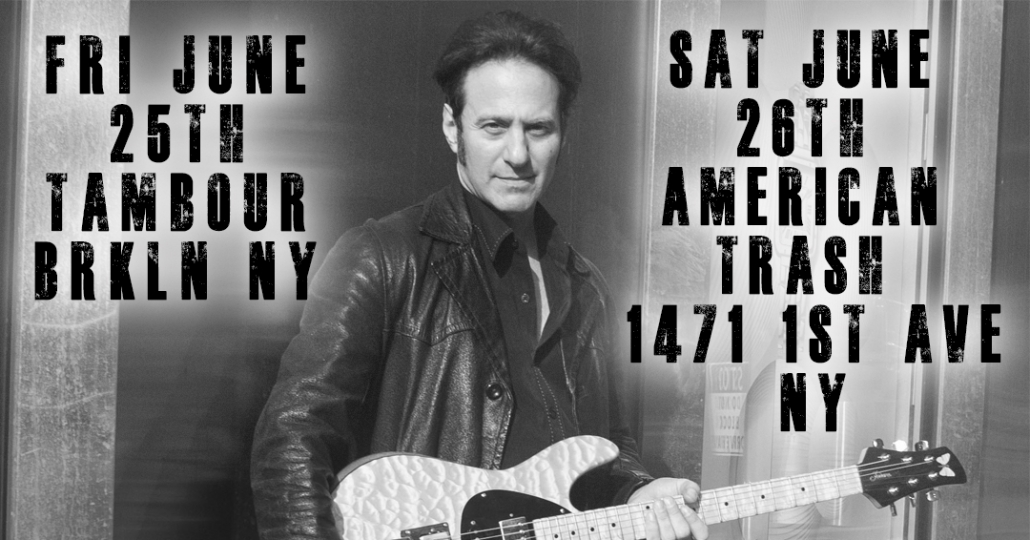 Hi Everyone!
Romania was AMAZING! I feel so lucky to be able to travel to different countries and meet people from different cultures and sample amazing new foods and see exotic places. I want to thank the amazing drummer Liviu Pop for putting this together and to the Tusnad Blues Gastro Festival organizer Attilla. Lastly, Liviu along with bassist Tony Tino played their "asses" off, as usual.
NY SHOWS!
Friday June 25th at 6-9:30pm I will be at my Brooklyn NY home Tambour 652 5th Ave, Park Slope Brooklyn's coolest/hottest music-restaurant for an evening of light blues, jazz and rock. Featuring myself along with: Bob Francheschini – sax (Victor Wooten Band), Nick DiFrisco – drums (Jaco Pastorius), Joey Lauricella – bass (Fodera Guitar Artist) and my pal and Berklee College of Music roommate – the amazing Alan Schwartz in guitar. 6-9pm. Chef Adam Torres has put together an incredible menu that will delight you! The show last week was magical. You won't find a more intimate place to listen to music and dine in Brooklyn. Outdoor seating is also available
https://www.tambournyc.com
Saturday June 26th American Trash 1st Ave NY NY reopens for music! I will be the featured guest with The Bluesy Dan Band. We played the last show at American Trash before it closed for music and now we are playing the first show when it reopens for music. The Bluesy Dan Band is: Dan Berliner, Mike Muller, Joey Kelly and Chris Reinhard. American Trash is the classic NYC biker bar reminiscent of the now defunct Hogs and Heifers of which I used to play at a lot except now there is no more smoking (Thank God!). It's going to be a fun night!
https://www.facebook.com/American-Trash-NYC-120607608017323/
https://www.facebook.com/events/384227853025854/?ti=ls
Best Blues Rock Nomination
Please vote for me if you haven't already for best independent Blues Rock: BAND, CD AND SONG for "Force of Will" by MakingAScene.org. at this link!
https://www.makingascene.org/independent-blues-awards-2021-vote-now/
Video
Thank you so much for all the great comments on my latest video WHY CAN'T YOU EVER TREAT ME RIGHT live featuring: Buddy Allen/bass, Lee Jeffryes/drum and Vlad Barsky/keys. Shot live at Al Weber's studio in Nutley NJ Jan 2020. Please subscribe to my YouTube channel if you haven't already!
https://youtu.be/3wxDmpeYnQs
Here is the latest single from my Best I Can from my CD FORCE OF WILL
https://www.reverbnation.com/davefields/song/32635439-best-i-can
Upcoming NEW Shows
July 16th STANHOPE HOUSE
Oct 2nd TRIAD THEATER West 72nd St NY NY
There are more shows coming!!!! I'm working hard on it!
THANKS AGAIN SPOTIFY LISTENERS!
https://promocards.byspotify.com/share/d05e025c162a9fe110d91248b0798da8a78c66ed
Sending much love! Hoping to see you soon.
-Dave
Dave Fields Plays
Fodera Guitars
http://www.fodera.com
https://www.davefields.com/wp-content/uploads/2015/06/davefeatured.jpg
172
499
davefields
http://www.davefields.com/wp-content/uploads/2018/06/davefields.jpg
davefields
2021-06-24 10:37:39
2021-06-24 10:37:39
Fri and Sat NYC Shows this week!