Jan 2019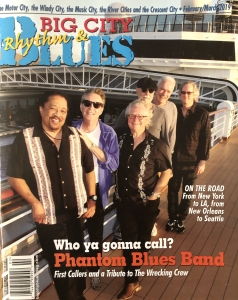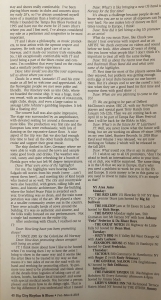 US and Norway Unite
By Dave Fields
Most of you readers know that I've had a great following in Norway. That's mostly due to my relationship with Norwegian Blues-Roots-Americana star JT Lauritsen. But what most American's don't know is that JT is more than just an amazing artist. He is also a promoter. He has run The Colorline Blues Cruise, which goes from Oslo Norway to Kiel Germany and back, for years. He also has a longstanding relationship with The Dark Season Blues Festival, which is the northern most blues festival in the world.
This past year, I connected JT with The Tampa Bay Blues Festivals promoter Chuck Ross. Because of JT, Chuck had the opportunity to bring his band The Back Track Blues Band to Norway. After hearing about their trip, I just HAD to find out all the details! LOL! I recently caught up with Chuck:
Dave: What's your role in the Backtrack Blues Band?
Chuck: I founded the Backtrack Blues Band in 1980, after leaving school at Chapel Hill, North Carolina. I moved to Florida where there was a burgeoning blues music scene and I decided to start an electric blues band to perform the Chicago inspired blues that I loved. Since those early days, I've been the leader of the group (assuming, of course that anyone can "lead" a blues outfit ) Lots of help from my longtime band mate Little Johnny Walter, who joined me after escaping the good times at UNC . I've written a majority of the original songs on our 6 albums and I handle most of the bands bookings and business. Or stated differently, I do the stuff no one else wants to do! Musically, I sing and play amplified harmonica. While all the guys contribute tremendously to our sound, I guess you'd say that I " front " the band. We've been performing continuously for 38 years, which makes us the longest running blues band in Florida, and a veteran group of musicians and friends. That longevity has paid off with lots of cool concert gigs with artists like Stevie Ray Vaughan, Buddy Guy, Gregg Allman, Robert Cray, John Lee Hooker, Johnny Winter, Kenny Wayne Shepherd and others . It's been a long and fun run so far, and my role has to been to try and steer the ship on a positive course.
Dave: Was this your first experience going overseas to play?
Chuck: We've played lots of major festivals in the United States and Canada but Norway was our first trip across the Atlantic. A wonderful guitarist from NYC (that's you Dave!) introduced me to JT Lauritsen, a blues promoter and leader of the Buckshot Hunters in Norway. JT and I shared a mutual friendship with a Florida harp player, Rock Bottom, who toured extensively in Norway, so we hit it off immediately. JT liked our new live CD / DVD release, Make My Home In Florida, so he was kind enough to book us on the Color Line Blues Cruise out of Oslo. What a fun time that proved to be! We sailed round trip, from Norway to Germany, and got to hang out with cats like Curtis Salgado, Dawn Tyler Watson, Kilborn Alley Blues Band and Josh Smith. Such a wonderful group of musicians enjoying a beautiful part of the world. We are hoping to get back to Europe in 2019.
Dave: What was it like being on the "other side", being the talent and working with another promoter (JT)?
JT, Big Jon, and the entire Norway team were so incredibly nice and organized. That it made our stay and shows really comfortable. I've been playing blues music in clubs and concerts since my early 20's, so I've always considered myself more of a musician than a festival promoter. While I founded the Tampa Bay Blues Festival in 1995 and have run the event for 25 years (that's where you and I first met), I've always considered my role as a performer and song writer to be most important.
JT and I share a philosophy, as music promoters, to treat artists with the upmost respect and courtesy. He took such good care of us in Norway, and it made our journey truly enjoyable. So, I felt exceptionally comfortable with JT and loved being a part of the blues cruise and concerts. I'm confident that every band on the cruise had a similarly positive experience.
Dave: How would you describe your experience, tell us about where you went?
Chuck: In a word, fantastic! JT and his crew made us all feel so welcome and appreciated. All the Norwegian people we met were polite and friendly. Our itinerary took us into Oslo, where we boarded the cruise ship. It was a huge, modern vessel, with an incredible array of restaurants, night clubs, shops, and even a large casino to assuage Little Johnny's gambling impulses. It felt like a floating city!
The concert hall was also quite impressive. The stage was surrounded by an amphitheater, with elevated seating for around a thousand or more folks. The production was first rate and the European fans were enthusiastic, with lots of dancing on the expansive dance floor. A nice aspect of the trip was that we also had enough free time to hear all the other bands during the cruise and support their great music.
The ship docked in Kiev, Germany where we were able to walk around the town and sample some good foods and drinks. The weather was cool, sunny and quite refreshing for a bunch of Florida guys who just left 90 degree temperatures.
Dave: What were some of the highlights?
For me, the highlights were hearing Curtis Salgado tell stories from his youth (sorry …can't repeat them here!), and meeting lots of kind locals who treated us so well. The city and countryside were also beautiful, with green, rolling hills and farms, and historic architecture, like the building where the Nobel Peace Prize is awarded each year. Everything was so clean, and the train transportation was state of the art. We played a show at a smaller community center out in the country. There were actually herds of cows around the building. It's was so authentic and sincere, and the folks really focused on our performances. Not a single bad moment on the entire trip.
After conferring with Chuck, I reached out to JT:
Dave: How long have you been promoting shows?
JT: SINCE 2001 for the ColorLine AS Norway
Dave: How does promoting shows compare with being an artist?
JT: I think more about how I like to be hosted when I'm touring then I try to host the artist I bring to show in the same way and it seems like the artist likes to be treated in my way so that means its two sides of me on the road with my band and working for promoting others. To promote you need to be professional and think about all the details from logistics of taking care of air tickets, hotels, backline local transport and some with special medical needs. You become a person pleaser and learn how to do things right. That is the big difference if you understand what I mean?
Dave: What's it like bringing a new US band to Norway for the first time
It's always a challenge because people do not know who you are so to cover all expenses can be very hard. No one makes lots of money on first times touring to Europe, I think!
Dave: How did it feel hiring a big US promoter as an artist?
What do you mean Dave, like Chuck you mean? I treat everyone with respect and as ARTIST. We check everyone on videos and sound before we book. After almost 20 years of doing this you know what people like! I don't think it's important to treat all with same feeling.
Dave: Tell us about the recent tour that you and Backtrack Blues Band did and what were some of the highlights.
JT: First time for most of the players seems like they enjoyed, but problem was getting enough extra gigs at local clubs because no one knows them. But it's always cool to see the crowd's reaction when they see a good band for first time and surprise them with good show 🙂
Dave: When are you planning to come to the US?
JT: We are going to be part of Delbert McClinton's cruise SBC 25 with my Norwegian players and special guest Terry Hanck from January 5th-12th. Then we are coming back on April 10 to be part of Tampa Bay Blues Festival then I will be back for the BMA in May.
Dave: What's in the future for JT Lauritsen?
JT: Well, you never know what future will bring, but we are working on album #9 since 1995 on my own label Hunters Records. In 2018 Blue Eyed soul Volume 1 was released, we are now currently working on Volume 2 which will be released fall 2019.
Dave: What would you like to say in closing?
JT: I wish to say to all US promoters don`t be afraid to book an international artist to your festival or club, you will be surprised. The same thing is in the US that we see in Europe, that's why you need a publicist to work for you in the US and Europe. It cost money to be in this game so you need to invest to make money, it's as simple as that!
NY Area Jams
Monday:
– THE RED LION 151 Bleecker St NY NY 8pm NYC's premier blues jam hosted by Big Ed Sullivan
– THE HILLTOP jam at 50 Essex St Lodi NJ hosted by Rich Borge.
– THE BAYOU Monday night jam, 580 Gramatan Ave Mt Vernon NY with host Johnny "Fedz" Federico & Da Bluez Boys.
– THE GREAT NOTCH US Highway 46 Little Falls NJ hosted by Dean Shot.
Tuesday:
– SUZY'S BBQ 34 S Valley Rd West Orange NJ with Andy Lackow.
-STANHOPE HOUSE 45 Main St Stanhope NJ hosted by Carol Fredricks.
Thursday:
– VICTOR'S 500 Commerce St Hawthorne NY with Roger Z (with Rudy Feinauer).
-THE GENERAL SALOON 1194 Englishtown NJ hosted by Bob DelRosso.
Saturday:
– THE FARSIDE TAVERN 531 Washington Ave Hoboken NJ Every Saturday afternoon 4-8pm hosted by Jimmy Mack
– LIEDY'S SHORE INN 748 Richmond Terrace Staten Island NY hosted by THE OTHER Jimmy Mack!
Sunday:
– The Bitter End All Star Jam 147 Bleecker St NY NY happening every 2nd and 4th Sunday hosted by Mark Greenberg.
-DLV Lounge 300 Bloomfield Ave Montclair NJ hosted by Al Gold.
In closing
I want to send a shout out to Brooklyn NY's hippest wine bar restaurant Tambour 652 5th Ave Brooklyn NY. Tambour has great live music every Thursday, Friday and Saturday night which runs the gamet of styles from blues, rock, jazz and soul. It's never too loud and Chef Thomas will WOW you with his outrageous cooking. Co-proprietor and drummer Nick DiFrisco along with NY bas great Joey Lauricella and myself will be there most Fridays so if you're in the area come down and bring your axe! It ain't blues if we're not jamming!
-Dave
http://www.backtrackbluesband.com
http://www.jtlauritsen.com
———–
Oct 2018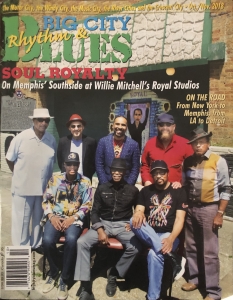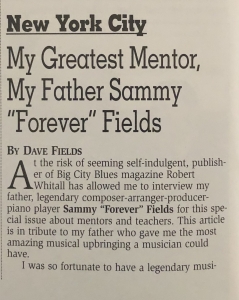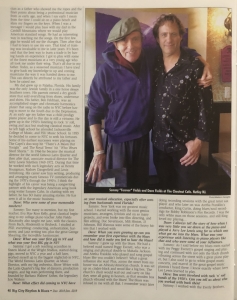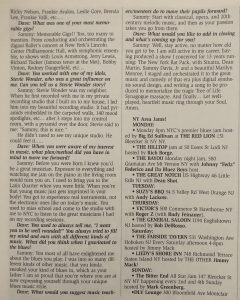 My Greatest Mentor, My Father Sammy "Forever" Fields
by Dave Fields
At the risk of seeming self indulgent, publisher of Big City Blues magazine Robert Whitall has allowed me to interview my father, legendary composer-arranger-producer-piano player Sammy "Forever" Fields for this special issue about mentors and teachers. This article is in tribute to my father who gave me the most amazing musical upbringing a musician could have.
I was so fortunate to have a legendary musician as a father who showed me the ropes and the finer points about being a professional musician from as early age, and when I say early I mean from the time I could sit on a piano bench and slam my fingers on the keys. When I was a teenager I would play bass with my dad in the Catskill Mountains where we would play American standard songs. He had an interesting way in teaching me the songs. On the first few gigs he would tell me the changes. Then after that I had to learn to use my ears. That kind of training was invaluable to me in later years. It's been said that the best way to learn a trade is by having hands on experience. I got to play with some of the finest musicians at a very young age who all took me under their wing. That's all due to my father. Today, as a seasoned musician I have tried to give back my knowledge to up and coming musicians the way it was handed down to me. This can directly be attributed to my father and how he raised me.
My dad grew up in Palatka Florida. His family was the only Jewish family in a one horse sleepy Southern town. His parents owned a dry goods store that sold everything from shoes, underwear and shirts. His father Ben Feldman was an accomplished singer and chromatic harmonica player that sang on the radio in NYC before having to move to the south due to the depression. At an early age my father was a child prodigy piano player and to this day is still a virtuoso. He grew up in the 1950's listening to Rock n Roll, swing and jazz but studying classical music. After he left High School he attended Jacksonville College of Music, & FSU Music School. In 1955 he decided to come to NYC to seek his fortunes. Some of his earliest successes were playing on The Capri's doo-wop hit THERE'S A MOON OUT TONIGHT and The Royal Teens hit WHO WEARS SHORT SHORTS. In 1966 he became the musical director for the world famous Latin Quarter and then after that, associate musical director for The Jerry Lewis Telethon 1969-1972. During that time he worked with such legendary acts as Henny Youngman, Rodney Dangerfield and Louis Armstrong. His career saw him writing, producing and arranging many famous TV commercials during the 1970's through the 1990's. I think the highlight of his career was being a song writing partner with the legendary American song book song writer Sammy Cahn. In chatting with my father, he has SO many amazing stories. He has seen it all in the music business.
Dave: Who were some of your memorable teachers?
Sammy: Too many to mention, but my first teacher, Eva Mae Ross Kelly, great classical beginning to my college piano teacher John Fields Macanulty also taught me jazz, with the classics. From Bach, Hindemith to Brubeck. I studied at FSU: everything: Conducting, Orchestration, Harmony, & jazz writing too, plus the great George Shearing, the incredible harmonizer.
Dave: What was your first gig in NY and what was your first BIG gig in NY?
Sammy: I got a job teaching accordion in Staten Island at the Wright Studios, started doing gigs, moved to NYC a year & a half later, worked myself up to the biggest night club in NYC, The World Famous Latin Quarter, as Music Director, with my big orchestra, Show Writer with the Latin Quarter's big line of dancers, production singers, and big stars performing there, & founded by Barbara Walters father the legendary Lou Walters
Dave: What affect did coming to NYC have on your musical education, especially after coming. From back woods rural Florida?
Sammy: New York was my greatest music school. I started working with the most genius musicians, arrangers, lyricists and on so many projects, & even broke into Film Directing, & Film editing. Doc Severinson, Milt Hinton, JJ Johnson, Bill Watrous were some of the heavy hitters that I worked with
Dave: When you were growing up can you remember your first experience with the blues and how did it make you feel to hear the blues?
Sammy: I grew up with the Blues. We had a beloved maid named Peggy Everett, who was a singing & physical double to Mahalia Jackson & Aretha Franklin who played & sang gospel Blues like you couldn't believe!! What a great influence she was! Plus, across the street from my house was an African/American church. It was setup on cinder-block and wood like a big box. The church's choir would wail out & carry on like they were all going to heaven, as that wooden box church vibrated with the blues!! The blues was infused in me with all that. I remember years later doing recording sessions with the great tenor sax player and who later on was Aretha Franklin's conductor: King Curtis doing blues/soul recordings for Bobby Robinson's Fire Records. I was the only white man on those sessions, & still King loved my playing…
Dave: I always tell the story of how when I was very little you sat down at the piano and played a Jerry Lee Lewis song for us which was got me into the blues. What was your experience with listening to piano players like that and who were some of your influences.
Sammy: As I said before my Blues roots started with my Peggy Everett's gospel singing & playing & continued with not only the black church vibrating across the street with a great piano player, but I also used to go to white gospel music concerts, & marvel at the great gospel music pianists I heard there. I knew exactly where Jerry Lee Lewis learned to play.
Dave: You were involved with rock n roll bands of the 1950's. Can you tell us about who you worked with back then?
Sammy: I worked with the Everly Brothers, Ricky Nelson, Frankie Avalon, Leslie Gore, Brenda Lee, Frankie Valli, etc….
Dave: What was one of your most memorable gigs?
Sammy: Memorable Gigs?! Too, too many to mention. From Conducting & Orchestrating the Zigani Ballet's concert at New York's Lincoln Center Philharmonic Hall, with symphonic ensemble, to shows with Louis Armstrong, Jerry Lewis, Richard Tucker (famous tenor at the Met), Bobby Vinton, Rodney Dangerfield, etc…
Dave: You worked with one of my idols, Stevie Wonder who was a great influence on me. Can you tell us a Stevie Wonder story?
Sammy: Stevie Wonder was my neighbor. When he first recorded with me in my private recording studio that I built on to my house, I led him into my beautiful recording studio. It had pyramids embedded in the carpeted walls, 140 mood spotlights, etc… after 3 steps into my control room, with a pyramid over the door, Stevie said to me: "Sammy, this is nice."
He didn't need to see my unique studio. He could feel it…..
Dave: When you were aware of my interest in music, what plan/method did you have in mind to move me forward?
Sammy: Before you were born I knew you'd be a great musician. Exposure to everything and watching me jam on the piano in the living room would turn you on. I used to bring you to the Latin Quarter when you were little. When you're that young music just gets imprinted in your body! You got to experience real instruments, not the electronic ones like on today's music. You used to miss school and come to the studio with me to NYC to listen to the great musicians I had on my recording sessions.
Dave: You used to always tell me, "I want you to be well rounded!". You always tried to fill my mind and ears with all different kinds of music. What did you think when I gravitated to the blues?
Sammy: You most of all have enlightened me about the Blues you play. I was into so many different kinds of other music, that you kinda sneaked your kind of blues in, which as your father I am so proud that you're where you are at now expressing yourself through your unique blues music style.
Dave: What would you suggest music teachers/mentors do to move their pupils forward?
Sammy: Start with classical, opera, & 20th century melodic music, & then as your passion takes you go from there.
Dave: What would you like to add in closing and what's coming up for you?
Sammy: Well, stay active, no matter how old you get to be. I am still active in my career, having produced a show I conceived for 13 years running: The New York Rat Pack, with Sinatra, Dean Martin, Sammy Davis, Jr & a beautiful Marilyn Monroe, I staged & orchestrated it to the great music & comedy of that era plus digital synthesis sound design, and writing a song to be produced to memorialize the tragic Tree of Life Synagogue massacre. And Finally… Let well-played, heartfelt music ring through your Soul. Amen.
NY Area Jams!
In closing
It's an honor to be able to share my father with you. This interview is just a tiny sampling of what my father can share in a discussion. His influence has touched so many musicians in the NY area. I'm always touched when I meet someone who's worked with my dad and the kind words they have for him. I hope to bring him to a Dave Fields show soon so you readers can hear him.
-Dave
————————————————————————————————————
Aug 2018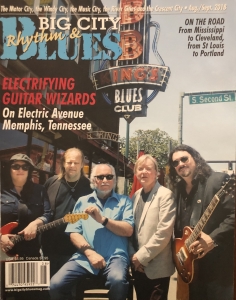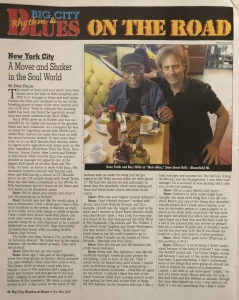 (Dave Fields and Buzz Willis at "their office", State Street Grill – Bloomfield NJ. Photo – Ivan Carrillo)
A Mover and Shaker in the Soul World
By Dave Fields
The world of blues and soul music have been linked since the time of their inception and NYC is no stranger to blues and soul music. Harlem has been and continues to be one of the breeding places of some of the most famous soul acts of all time. There to cultivate that amazing talent has been my friend the legendary record man and music business icon, Buzz Willis.
Buzz Willis grew up in Harlem and was surrounded by the sights and sounds of the greatest blues and soul musicians. As a youngster he was an intern for legendary record man Morris Levy where Buzz learned the ropes first hand on how the record business worked. In later years Buzz went on to run RCA Records Soul division where he signed many legendary soul artists such as The Main Ingredient (Everybody Plays the Fool), Nina Simone, Jimmy Castor, John Lucien and Friends of Distinction. More recently Buzz has enjoyed decades as manager for arguably one of the biggest R&B bands of all time Kool and The Gang. It's been an honor to work with Buzz. His reputation however extends way beyond soul, blues and R&B having a tenure at CTI Records where he ran CTI records along with Creed Taylor. Buzz has also been a consultant to the UN for its 50th Anniversary but let's focus on the blues soul aspect of his illustrious career.
Dave: Tell us about your family and what it was like growing up in Harlem?
Buzz: Harlem was just like the world today, it was a community. I was a street guy, I was a little crazy hoodlum in the streets, it was not as crazy as it is today, we'd settle thing on fields of sports. I was a more than decent basketball player, ran track and I swam which at that time was not a popular thing for an Afro-American to do. I played basketball on three NYS/NYC High School/PAL championship teams while attending DeWitt Clinton High School.
My family was from Jamaica, I'm as they say I'm of Jamaican descent. My father was in the optical business. My mother stayed at home. They were not musical.
Dave: How did you get into music?
Buzz: Years ago, I was part of the legendary street Doo-wop groups in Harlem, which included The Isley Brothers (when they first came to NY), The Crows (Gee) of which I sang with for a minute. I was in The Solitaires and I sang 2nd tenor and baritone and that got me in the business singing on the street corners and in the hallways of the tenements. We made a major reputation in NY. A disc jockey by the name of Hal Jackson took us under his wing and we got signed to Old Town records when we were about 17. We had two top ten records nationally! In those days the popularity charts were segregated. They had black music charts and white music charts.
Dave: Who was your biggest musical influence?
Buzz: I had a bunch because I worked with Morris Levy from Roulette Records and Tico Records, (which was the largest Latin label at the time) and I worked at Royal Roost Records which was also Morris's label. I was a big Doo-wop guy so I loved all the Doo-wop groups like Billy Ward & The Dominoes, The Orioles and The Drifters. I also loved Sarah Vaughn and Dinah Washington but they weren't Doo-wop. There wasn't too much blues in my life until I started to go to Chicago when I would see my friends at Chess Records – Marshall and Phil Chess.
Dave: How did you get into the business side of the music business?
Buzz: Being with The Solitaires I was like the unofficial manager, unofficial point person for everything, I had to learn on the job. Then I would work for Morris Levy after school. I would pick up different things as I was going along. I also booked shows in schools I was like an agent for my school. I realized I liked this side of the music business rather than running around on the road getting flat tires and all that kind of thing. My first baptism on the business side was I was a road manager one summer for The McCoys (Hang On Sloopy) and the Strange Loves. I was their road manager for a summer! It was exciting and it also was on the job training.
Dave: Tell us a juicy Morris Levy story!
Buzz: Contrary to what many might have thought, the most valid thing that I can tell you about Morris and one of the things that characteristically people don't know about Morris, is he was an honorable person to a great degree in so much as his deals were concerned. He was from the super old school that when you shook someone's hand on a deal that was the deal. I saw for a fact if you pressed him into service or pressed him for a contract of some sort, it wouldn't work out for you that way LOL! But if you shook his hand on a deal, you were in a better position!
Dave: Wow! That's. great story! What was it like working at RCA?
Buzz: Different! A lot of things I didn't understand because of the kind of pressure I was under. The NAACP would call, The Urban League would call because I was sort of the Jackie Robinson of that time. It was interesting. I didn't understand some of the things that were going on around me, I had to acquire the politics of a corporation. Luckily, I was able to ask some good "rabbis" for lack of a better word Morris was one, for help. I also had Julie and Roy Rifkind as mentors through that time who helped me a lot. I was able to call them if I ran into something that I didn't understand they would give me the variable to get around it. Dealing with the big boys, I had some strong people to guide me through it. As I grew and matured the rest is history!
Dave: How did you meet and start working with Kool & The Gang?
Buzz: The beginning of THE LADIES NIGHT album I was recommended to them through a friend. They were looking for management and fate brought us together!
Dave: What other famous artists from Harlem have you worked with?
Buzz: I didn't necessarily work with these people but they were around: Jimmy Castor, The Commodores – they were working in Harlem at Smalls Paradise as the house band which was THE club in Harlem at the time. That was a great experience! Later on, as the years went on I booked Freddie Jackson
Dave: What do you see as the future of blues and soul music today?
Buzz: That's a good question and the industry hasn't even caught up with that answer LOL! There are songs today that are a derivative of a lot of different things. They start out calling them pop records but they are no longer pop records they're just the music of today. They have influences of R&B and everything else and there's strong R&B songs today that have influences of rap in them from even the most gentile artists. The melding of the music today is contemporary. So, it's hard to distinguish just R&B. R&B is just as pop as everything else today. Where is it going? It's going wherever these young people take it
Dave: Wow! I get it! Who are some of your favorite artists?
Buzz: Well…. hahaha! From a rock stand point I'm a Metallica fan and I like Creed and I love Coldplay. I also love Pink Floyd. I have a different breadth of music…. I'm a big Lionel Richie fan, Earth Wind & Fire and Howard Hewitt. On the ladies side, I like all of them! There's some not known artists, I think Allison Williams is great. All of the CTI artists are my favorite jazz artists. I just want to say, while I was at CTI Records I believe Mr Magic by Grover Washington was one of the first jazz records that became platinum. CTI had the roster of its time… George Benson, Hubert Laws, Grover Washington, Stanley Turrentine, Hank Crawford, Esther Phillips… you name it, they were on CTI at one time. I just want to mention, along with Creed Taylor and myself, Betsy Columbo and Simo Doe were part of the magic that made CTI so special.
Dave: What would you like to say to our readers in closing?
Buzz: I'm thankful that's there's still a magazine like Big City Blues. We all have to watch and pay attention to the music today and don't try to NOT understand it if we are going to be in this game and be music lovers because it's a cross section of so many types of music! Also, that is why Robert "Kool" Bell, Jim Anderson and I joined forces with Will Jam Entertainment Group, so we can keep the legacy of great music going. Lastly, I want to thank my wife Phyliss for putting up with me through all my trials and tribulations in the music business!
In closing
In talking with Buzz Willis, he's filled with an amazing world of incredible stories. I hate having to narrow it down to what I've written. It's an honor to share him with you! I hope one day he writes a book. Buzz…. You are a beautiful human! We need more of you!
-Dave
————————————————————————————————————
June 2018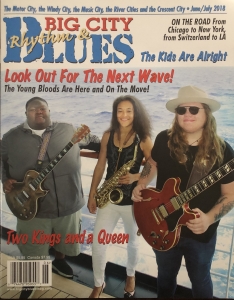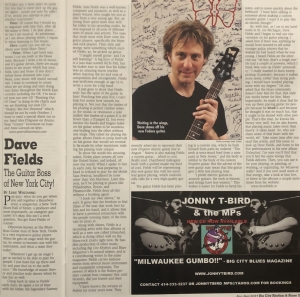 Dave Fields: The Guitar Boss of New York City!
By Luke Woltanski
Pop quiz: what do you get when you add together a broadway actor, a songwriter, a New York Blues Hall of Famer, a producer and most importantly, an energetic guitarist? It's okay, this isn't a trick question. You get Dave Fields of course!
Otherwise known as the Blues Boss Guitar man of New York, Fields is a very impressive guitar player. When he gets on stage with his guitar, he seems to become one with his instrument, and what a team they make!
"Whenever I get up on stage I get so excited to be able to play for people. I just have fun up there and try and pass that on to the audience." His knowledge of music theory and practice truly shows when he has fun as well.
Going back in time to Field's early days, he spent a lot of time with his father: the legendary Sammy Fields. Sam Field's was a well-known composer and producer, as well as a piano wizard, who taught his son to play from a very young age. But, as young Dave spent more time with his father in his recording studio, he was exposed to all sorts of different sorts of music and artistry. The one's that stuck most with Dave were the guitar players, specifically the blues and rock players. Their style and energy were something which excited Fields: so, he picked up guitar.
"I taught myself guitar- and I'm still learning!" A big hero of Fields is a jazz-man named Richi Hart, but he makes sure to note that his father was an amazing music teacher, when learning the ins and outs of composition and arrangement. Fields was proficient enough at age 16 to write a score for a big band.
It just goes to show that Fields truly has the spirit of the guitar in him! Watching him play live, I can't help but notice how smooth his playing is. Not just that the timbre of his playing is perfect (timbre refers to the sound, or resonance a note makes: the timbre of a piano E is different than a Trumpet E), but every motion his hands and fingers make on his guitar seems to be seamless, one leading into the other without any stops. This talent for playing the guitar allows Fields to jump intervals on his guitar that would not normally be made by other musicians: making his playing truly unique.
To show the world this amazing talent, Fields plays venues all over the United States, and indeed, all over the world. When I spoke to him in early July, he was preparing to head to Iceland to play for the Molde Jazz Festival: headlined by none other than Van Morrison. Later this year, he'll be playing in places like Philadelphia, Byron, and Phoenixville. Fields does all this without a booking agent.
"I book my own shows," he says. It gives him the freedom to find times of the year that work best for him and his band, and it allows him to have a personal connection with the people running many of the festivals he plays at.
Along with shows, Fields is a recording artist with four albums as well as a new one called Unleashed, which is doing rather well on the blues-rock charts right now. He handles production of other music, including Big City Rhythm and Blues Magazine's bi-annual mixers, and is a contributing writer to the same magazine. Field's carries endorsements from several music instrument and equipment companies. The newest of which is the Fodera premier custom bass company that until recently, did just basses and their equipment.
"I have known the owners of Fodera for many years now. They recently asked me to represent their new Emperor electric guitar line in August." Fodera is also making Fields a custom guitar… which is cool. Really cool. Chambered mahogany body with a quilted maple top kind of cool. Fields will be representing this new guitar line with his excellent guitar playing, which undoubtedly calls for a very high-quality guitar.
The guitar Field's has been playing is a custom one, which he built himself from parts he ordered. "The neck is terra-wood fried from a company in New Jersey," and the body is similar to the body of his custom Emperor guitar. But the advent of the new guitar may mean that this guitar gets a little less playing time.
"I prefer electric guitars to acoustic guitars: the neck is thinner, and strings have less tension." This makes it easier for Field's to bend his notes, and to move quickly about the fretboard. "I have been talking to someone about making a custom acoustic guitar. I want it to play like an electric though!"
So, with that, as I sat in my hotel room in St. Joe Michigan, Dave Fields and I began to end our conversation on his guitar playing. I asked him if there was anything he would have wanted to tell some younger guitar players that he wished he had heard when he was young. I heard Fields on the other end say "oh boy, that's a tough one." He had a couple of answers, which I think best sum up Field's personality. He said: "I really wanted to learn how to sweep picking (Gambale), because it makes more sense, rather than string picking. I would have worked playing more with my fingers." He also asked that the blues community doesn't hate him for that, that style just works better for him. Most importantly, he made it clear that he was up playing guitar for people because he loved it and because he thought it was so much fun, that it ought to be shared with other people.
That's the man, he knows his theory very well, but he also knows that playing music takes more than theory: it takes heart. So, why not share some of that heart with the world, eh? Take some time after you read this article, and this issue, to look up Dave Fields, and listen to his live performances in his new album Unleashed. I'm sure you'll find that you'll feel the same energy that Fields delivers. Then, you can use it for your playing, or painting, or working, or organizing: for whatever really! And if you ever need more of that energy, take a look at him live, or listen to his albums a couple more times from his website.
————————————————————————————————————-
April 2018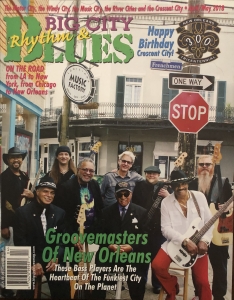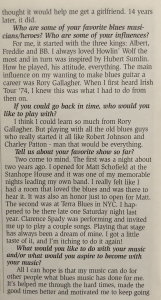 (Adam Najemian – photo Lauren Rutkowski)
A Young Gun Emerges
by Dave Fields
I often get asked who do I see that's the new blues person coming up in the NYC area. Having being a veteran and frequenting many NYC area and beyond jams I'm ALWAYS excited about seeing the next crop of blues musicians. When I met this young man of whom I'm going to write about at THE STANHOPE HOUSE jam that I was hosting, I was instantly intrigued but what he was doing. He has since continued to impress me and the NYC area blues scene with his style, grace and soul. I'm proud to share with you readers my choice for the up and coming young "blues- man" from the NYC area Adam Najemian.
Dave: Where did you grow up?
Adam: I grew up in the small, 2 square mile town of Stanhope, NJ. It's actually known as the home of the legendary Stanhope House which was awesome to grow up so close to. I was able to see national blues acts when I was just a kid.
Dave: How did you get into the blues and music?
Adam: My parents were a great influence. Their musical choices, especially my dad's. He was (and still is) a mailman. He had off Sundays, and when my mom would go to church, he'd stay behind, clean the house and play old blues records. From an early age I was fascinated with the rawness of the sound and the emotions of that alone. From that moment on, only one style of music moved me like that.
Dave: What instruments do you play?
Adam: Play or play well? I can technically play the mandolin and banjo, but my true love is the guitar. I first picked one up when I was 9 because I thought it would help me get a girlfriend. 14 years later, it did.
Dave: Who are some of your favorite blues musicians/heros? Who are some of your influences?
Adam: For me, it started with the three kings: Albert, Freddie and BB. I always loved Howlin' Wolf the most and in turn was inspired by Hubert Sumlin. How he played, his attitude, everything. The main influence on my wanting to make blues guitar a career was Rory Gallagher. When I first heard Irish Tour '74, I knew this was what I had to do from then on.
Dave: If you could go back in time, who would you like to play with?
Adam: I think I could learn so much from Rory Gallagher. But playing with all the old blues guys who really started it all like Robert Johnson and Charley Patton – man that would be everything.
Dave: Tell us about your favorite show so far?
Adam: Two come to mind. The first was a night about two years ago. I opened for Matt Schofield at the Stanhope House and it was one of my memorable nights leading my own band. I really felt like I had a room that loved the blues and was there to hear for it. It was also an honor just to open for Matt. The second was at Terra Blues in NYC. I happened to be there late one Saturday night last year. Clarence Spady was performing and invited me up to play a couple songs. Playing that stage has always been a dream of mine. I got a little taste of it, and I'm itching to do it again!
Dave: What would you like to do with your music and/or what would you aspire to
become with your music?
Adam: All I can hope is that my music can do for other people what blues music has done for me. It's helped me through the hard times, made the good times better and motivated me to keep going in more ways than I could have imagined. It's been really awesome to see other blues musicians excel this day in age – and it gives me hope for myself and the young people just discovering it.
Dave: How and/or what would you like see/do in the blues, in the future?
Adam: I really want to play to more blues-loving audiences around the world. There are so many talented blues musicians and audiences that love them. I just want to play with them and for them.
Dave: What do you have coming up that you would like to share with our readers?
Adam: I have a handful of upcoming shows coming up for the East Coast, all of which can be found on my website – AdamNajemian.com and Facebook page – Facebook.com/AdamNajemian. I do a weekly Happy Hour Blues Jam on Facebook Live Thursdays at 5:30PM ET. Other than that, I'm working on new music, which I'm really excited about and should be ready to record and release soon!
In closing
The big city is always churning out the biggest and the brightest stars. Just the hum of the city keeps the blues churning here in the Big Apple.
-Dave
————————————————————————————————————
Dec 2018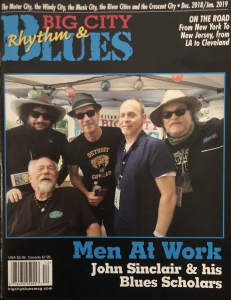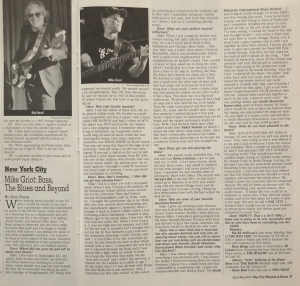 (Mike Griot)
Bass, The Blues and Beyond: Mike Griot
by Dave Fields
When writing about bassist in the NY area I would be remiss to not mention a gentleman who has contributed so much to the NY/NJ music scene not only as a musician but as a restauranteur and promoter (to just list a few things). I'm talking about bassist and beyond Mike Griot. I've been trying to interview the very busy Mike for some time now and I'm happy to finally connect with him so I can spread the word of this most remarkable musician. His interests lie deep in every aspect of the music business. He's truly the definition of the complete musician. Not only that he's one badass bassist!
Dave: Where did you grow up and tell us about your family?
Mike: I was born in Washington DC, my family both mother and father are from DC. My father started out working in a Grand Union Super Market as a bag boy and worked his way up to eventually becoming an assistant manager in Poughkeepsie NY. When that happened we moved north. We moved around a lot, Poughkeepsie, Troy NY then Montclair NJ and we wound up in 1967 in Bloomfield NJ where I spent the first half of my life growing up.
Dave: Was your family musical?
Mike: I am the oldest of three kids. My sister played a little viola. My brother is a proficient songwriter and was a rapper with a band called ONE NATION and had a video on MTV. My father was NOT musical but my mother had a nice singing voice. I remember when living in Montclair NJ, my housewife mother would sing all sorts of music while she was cleaning the house. One song I distinctly remember was DRINK DRINK by Mario Lanza! That was one song that framed the edge of my memories. And she snag it as she was vacuuming! If you put a visual on this you're talking about a poor black woman from DC who was one of ten children who literally had very eclectic music tastes. My parents gave me so much support. I thought I could fly because I had those types of parents. I never perceived any limitations to anything.
Dave: Wow, that's amazing…! How did you get into playing bass?
Mike: This is a story I've told a thousand times! When I was 7 living in Bloomfield NJ my elementary school offered music instruction for the first time. They had limited amount of instruments such as violin, viola etc. I brought the permission slip to my Mom who was very excited about me playing and she immediately signed it. However, when I brought it back to school I didn't check a box indicating which instrument I wanted to play. When I got to the music class, I was late. They only had one violin left. When I tried to play it, it was too high and too squeaky and I didn't like the way it sounded and I thought this I not for me. In that moment a girl came into the class room returning a cello. Teacher said well… if you'd like to try this instrument go ahead. So she showed me how to play which started with a low C. I remember how the way that low C vibrated through my body and it was almost like a light went on inside. It must have been the vibration that made me say wow this is cool and I didn't feel nervous, it relaxed me. So I started as a cellist at age 7. By the time I was 13 I was all state cello being the only black kid in the orchestra. Also, I remember my first cello recital. At the end of my performance everyone in the audience got to their feet. I remember seeing my mother with tears in her eyes. And from that moment on, I knew I was on to something playing music.
Dave: What are your earliest musical influences?
Mike: When I was young my mother was always playing AM radio and that was in my ears. As a kid I loved Earth Wind & Fire, Parliament and Chicago, Elton John…. One year there was a talent show where I lived in Bloomfield NJ, which was predominately Italian with a small black neighborhood. In our neighborhood we formed a band. They needed a bassist so they asked me to bring my cello, which I would play as a bass but I didn't have a bass or an amp or anything like that. We didn't have money for amps and a bass. We decided to enter the talent show. There was a band from the other side of town and they amps and instruments and everything that a band needs. I wore a white jump suit and pulled the endpin on my cello to play it like a bass. The show was in a big loud auditorium. We played and it was ok but I had no amp and it was hard for me to be heard. Then the other band played and they lights, PA, amps and the people went crazy. At that moment I realized because I love pop music I need to play an instrument that can be heard and the easiest instrument would be bass. BTW I had the best black jazz cellist teacher at the time Abdul Wadud (of which I found out later when I was much older). After that show I eventually convinced my father that I was serious about bass so he bought me a sunburst Univox bass and that changed my life!
Dave What got you into playing the blues?
Mike: Two people really solidified that. The first one was Debra Coleman. I got to play with her in 1992, I had never known about the Indy blues scene. I got asked to audition for her even though I had never played the blues. I absorbed my first introductions of playing the blues with Debra. The second was Michael Hill in the mid 90's. At that time I would go to Bleecker St in NYC and would hang with the whole Village scene and do three gigs a day to make a living. Doing my first international tour with Michael sealed the deal for me.
Dave: Who are some of your favorite musicians/bassists?
Mike: I grew up idolizing Louis Johnson who was half of the Brothers Johnson and was Quincy Jones bassist, Stanley Clarke later on Marcus Miller. I remember getting deeper into the blues through Michael Hill and went back and listened to guys like James Jamerson and from there started to develop my own voice.
Dave: You're more than just a musician. You also sponsor festivals and now own an amazing music venue. Can you tell us about how you got into being such an entrepreneur and about your festival (South Mountain International Blues Festival) and venue (Hat City Kitchen)?
Mike: I was always that kid that organized everything I was involved with. I was always the leader. I loved everything about the music business. I guess I'm a control freak and was comfortable in a leadership role. I guess my entrepreneurship was always there. The South Mountain International Blues Festival… I was living in South Orange NJ in the 2000's and was touring like crazy. I was home from touring one day sitting in front of Starbucks and I remember thinking this place is cute, almost as cute as the rest of the world that I've been seeing. I cocked my head to side and thought maybe I will create a blues festival right her in South Orange. Slowly over 4 years I put a plan together and in 2010 I put together my first blues festival. I finally got the town to give me a permit for Flood Hill Park in South Orange NJ. And then the day came for the festival and it rained all day long… I had booked all these acts, spent all this money and probably had only 200 people in attendance. While I was sitting in the production truck with my head in my hands thinking what did I do I noticed all the blues "die hards" had came back with rain coats, their kids and stayed for the whole festival and really enjoyed it. A week after that and swearing I would never do that again I got a call from Essex County Executive Joe DiVincenzo who told me, "anyone who could put together a show in the rain, I want to work with!" He was putting money into South Mountain Reservation (part of Essex county NJ Parks) and it would be cool to have my festival there. My timing was impeccable! He took my festival and made it a county event and moved it to South Mountain Reservation. Last year was my 9th year and we had 5,000 people!
Dave: What do you have planned in the future?
Mike: HAT CITY KITCHEN 459 Valley St Orange NJ was my local bar and was about to close. They were trying to sell it and offered it to me and I said no because I hate the restaurant business. Then a couple of months went by and it was apparent HAT CITY KITCHEN was going to die. That would have been another tragic closing of another music venue. By chance I was in South Orange NJ having coffee and I ran into my soon to be partner Lance Knowling (who has had several successful restaurants). I told him that they had offered me Hat City Kitchen and we decided to work together and renovate the whole place. We closed it down for 5 months and just reopened January 7th and its been an intense ride! We redid everything, new sound system, new audio visual… It looks like you could be in Hoboken or Jersey City. It has the best sound system and is the best place for bands to play in the area. We now its call it HAT CITY. I decided that I would use my curation instincts to attract great bands and deliver great performances to music fans
Dave: WOW!!!! That's a lot!!! Mike, I know you're going to be very successful with this as you have been in everything you do!
In closing
I want to send a shout out to a new music venue in my Lower East Side neighborhood, Saluggi's (East) 399 Grand St NY NY. Saluggi's has the BEST brick oven pizza in The Lower East Side and owner Bill Wall and manager Jennifer Thomas are amazing hosts. You have to check it out!!!!
I hope I get to see you readers soon!
-Dave