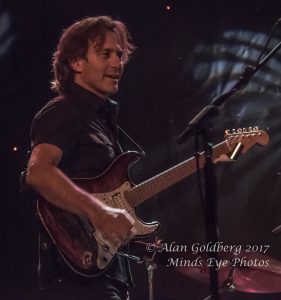 Let it snow, let it snow, let it snow! The show must go on! LOL!
I wanna thank everyone who made it to Mexicali Live last week. I appreciate your support beyond how can I write… its fans like you that allow independent artists like me to do what I do. Thank you from the bottom of my heart.
This Friday March 17th the party continues at Laundromat Bar "Unleashed" CD party 7:30-10:30pm (4 DeHart St Morristown NJ) featuring the ever fiery Tara Layne as special guest. Laundromat Bar is the coolest underground speakeasy vibe complete with faux washers and dryers as you walk in! The downstairs is a huge space that resembles a 1920's Chicago speak easy. IT'S VERY COOL! My band that night will be Lee Jeffryes on drums and RK Scott on bass.
http://www.thelaundromatbar.com
Wednesday March 15th I return to Sona Thirteen (13 South St Morristown NJ) to do my acoustic set from 5:30-8pm. I love Sona 13!
http://www.sonathirteen.com
New Videos
CHILD OF THE WORLD shot live!
https://youtu.be/jx4sQgvbrrw
ANTICIPATING YOU
https://youtu.be/bB4JzTMzdd8
Check out this recent interview that I had with Richard L'Hommedieu from Making A Scene:
http://www.makingascene.org/depth-interview-dave-fields/
I'M STILL #1 IN BLUES NYC ON REVERBNATION!
https://www.reverbnation.com/davefields
UNLEASHED IS #25 ON THE LIVING BLUES CHARTS!
Check out the interview of me in the latest issue of Big City Rhythm And Blues Magazine by Guy Powell
Reviews
The new ones keep coming in!
http://www.davefields.com/reviews/
UNLEASHED is available!
http://www.cdbaby.com/davefields5
Coming Up For Dave Fields
Mar 23rd AMERICAN TRASH NY NY Dave & Ross's bday! 8pm
Mar 29th AMERICAN TRASH NY NY 8pm-midnight
Apr 1st PJ RYANS w/Dave Rudbard Jersey City NJ
Apr 7th KIEV HILTON Kiev Ukraine
UNLEASHED CD PARTIES
Mar 30th VICTORS Hawthones NY
Apr 13th RIVARA'S Fair Lawn NJ 10pm (acoustic CD Party!)
Apr 15th ROBIN'S NEST Dave & Robin's bday! Linden NJ 9pm
Apr 21st 12 GRAPES Peekskill NY 9pm
Apr 27th STANHOPE HOUSE Stanhope NJ 7pm
Thanks so much for your support!
-Dave
http://www.davefields.com/wp-content/uploads/2015/06/davefeatured.jpg
172
499
davefields
http://www.davefields.com/wp-content/uploads/2018/06/davefields.jpg
davefields
2017-03-14 00:46:42
2017-03-14 00:46:42
UNLEASHED CD Party at Laundromat Friday!