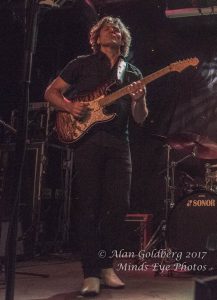 Hello everyone as we enter the month of Aries! LOL! Yes, I admit it, I'm an Aries… god help me… but what that means is a month of Aries big birthday bashes starting with this Saturday!
Saturday Marc 25th bass playing sensation Ross Daisomont (another Aries) and I will start off the month of Aries birthday bashes by having our joint party/show/jam at AMERICAN TRASH 1471 1st Ave btwn 76th and 77th Streets starting at 8pm. It's going to be a blow out! Bring your axe, I might be on the floor after the first song from all the shots!
https://www.facebook.com/American-Trash-NYC-120607608017323/
Thursday March 23rd I continue my "residency" at Sona Thirteen (13 South St Morristown NJ) to do my acoustic set from 5:30-8pm.
http://www.sonathirteen.com
New Videos
CHILD OF THE WORLD
https://youtu.be/jx4sQgvbrrw
ANTICIPATING YOU
https://youtu.be/bB4JzTMzdd8
Check out this recent interview that I had with Richard L'Hommedieu from Making A Scene:
#1 IN BLUES NYC ON REVERBNATION!
https://www.reverbnation.com/davefields
Check out the interview of me in the latest issue of Big City Rhythm And Blues Magazine by Guy Powell
Coming Up For Dave Fields
Mar 29th AMERICAN TRASH NY NY 8pm-midnight
Apr 1st PJ RYANS w/Dave Rudbarg Jersey City NJ
Apr 7th KIEV HILTON Kiev Ukraine
Apr 19th LAUNDROMAT BAR acoustic duo w/Wayne Livingston
Apr 26th SONA 13 5:30pm Morristown NJ
UNLEASHED CD PARTIES
Mar 30th VICTORS Hawthones NY
Apr 13th RIVARA'S Fair Lawn NJ 10pm (acoustic CD Party!)
Apr 15th ROBIN'S NEST Dave & Robin's bday! Linden NJ 9pm
Apr 21st 12 GRAPES Peekskill NY 9pm
Apr 27th STANHOPE HOUSE Stanhope NJ 7pm
Apr 28th DADDY JACK'S New London CT 8:30pm
Thanks so much for your support!
One more thing, you don't have to be an Aries to come party with us!
-Dave
http://www.davefields.com/wp-content/uploads/2015/06/davefeatured.jpg
172
499
davefields
http://www.davefields.com/wp-content/uploads/2018/06/davefields.jpg
davefields
2017-03-20 15:01:56
2017-03-20 15:04:04
Sona 13 and American Trash BIRTHDAY BASH!