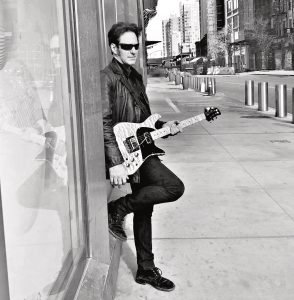 Ferocious blues rock & beyond NYC Style.
NY Blues Hall of Famer and Fodera Guitar artist Dave Fields 6th and latest album Force of Will is ferocious mix of blues rock and beyond that stretches the boundaries. Force of Will will take you on a musical journey in a way that only Dave Fields can take you. Dave and his Fodera guitar will light your senses on fire. Force of Will, like all of Dave's album's, is a dynamic excursion of love, fun, joy and life which will please the blues-rock lover and beyond.
Force of Will opens up with the driving rock love shuffle "I Love My Baby" which is a blues rock ode to true love. Track 2 will flatten your head with the uptempo boogie "Big Block" which features Steve Morse band drummer Van Romaine and NJ bass legend Buddy Allen (Rick Derringer). The next track that follows, "Hunger" is a grinding swamp sex blues rock number that will get your hips moving to a love sick trance. Track 4 is one of Dave's FAVORITE on the album, "Why Can't You Ever Treat Me Right". It's a heart wrenching slow bluesy plea for unrequited love. The guitar solo is scintillating! The title track "Force of Will" lands in the middle of the album at track 5 which is a call to the times we live in today, "The force of will keeps you going on…". You can hear Dave calling out to his woman on track 6 "It's Not Ok" which will delight any blues listener featuring Norwegian blues kings Kåre Amundsen (drums) and Bjørn Hagset on bass. Force of Will abruptly takes a turn on track 7 into NYC blues with the funky-jazzy "Chloe & Otis" co-written by Vlad Barsky. Dave lights up the album with his tribute to NY music legend Delmar Brown fittingly titled "Delmar" on track 8. This guitar cadenza will sear your soul! Instrumental "Jack Ham Her" is track 9 and it will leave you feeling like you got hit by a Jack Hammer! It features Van Romaine (drums) and Erik Boyd on bass (Black 47). Lastly, track 10 is the Otis Redding like sexy rocker "Best I Can" which has its roots in soul but served up NYC blues-rock style!
Dave's list of recording session, record dates, jingles and TV commercials are an impressive list including works with Aretha Franklin, U2, IBM, Publishers Clearance House to name a few. He cut his teeth at the legendary NYC music house LOOK music which led Dave to create his own music company: Fields Music. His gift of making his guitar talk combined with his uncanny way of weaving many different styles of music together is an example of how we as humans are a tapestry of many different cultures and walks of life.
Dave Fields performs all over the US and the world. He is currently #1 on the ReverbNation blues charts in NYC. His awards include: Best Self Produced CD 2006 at the IBC, 2009-2010 Mojo Boogie Award, 2012 international blues magazine Big City Blues Happy To Have The Blues Lifetime Achievement Award. Legendary British bluesman John Mayall recorded one of Dave's songs, "Train to My Heart" on his album "TOUGH". Dave's album's TIME'S A WASTIN', ALL WOUND UP, DETONATION (produced by legendary Grammy award winning producer David Z), ALL IN #1 RMR top 50 blues charts and UNLEASHED have all garnered international acclaim. Dave is overseas regularly with tours in Europe.
What to Expect at a Dave Fields Show
Dave Fields live is an electrifying experience. His soulful singing is punctuated with a performance of guitar virtuosity, blues, rock and beyond. His song writing stylings will keep you reeling as well as his power as an entertainer. Each performance is unique unto themselves and is a scintillating, mind bending and uplifting.
BLUES HALL OF FAMER / Hubert Sumlin
"When I first heard him I knew he had something special.
When Dave plays he plays with such passion."
GUITAR PLAYER MAGAZINE
"…an enjoyable listen for both blues acolytes and casual club jumpers … an
exhilarating concert experience if you ever get a chance to see Fields live."
DOWNBEAT MAGAZINE Frank-John Hadley
"Fields stand apart as a flamboyant entertainer."
www.reverbnation.com/davefields
www.facebook.com/fieldsmusic
www.cdbaby.com/davefields6
www.youtube.com/c/DaveFields