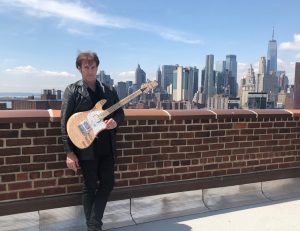 Hi everyone! This Friday May 8th it's going to be another Friday night at home. Why don't you spend it with me? Hey, YOU CAN DRINK ALL YOU WANT, YOU'RE NOT DRIVING ANYWHERE HA! Pull up a chair, pour a drink and hang out with me, we are both going to be in our living rooms?! I will be will do a special YouTube live solo show streaming from my lower east side NYC apartment 7:30pm EST.
Here's the link to my YouTube channel:
https://www.youtube.com/channel/UC2kCf9JedeCUV8d8Pe_KXQQ
While you're there please subscribe to my YouTube channel if you haven't done so already!
Special guest Jasper Fields! I will be playing some songs from my upcoming CD "Force of Will" as well as many other. If you have a request, let me know! I would love to hear from you!
I'm closing in on a release date of my upcoming CD Force of Will. I will be making an announcement about that date soon!
Not to be complaining, living here on the lower east side I've noticed many people when they go out wearing masks and many not wearing masks and congregating in close proximity to one another. I'm not a health expert or a virologist but if what the experts are saying is true we all should heed their warnings otherwise this virus will hang around longer and personally, I'm done with it LOL!!!
Please everyone stay safe and healthy.
-Dave
Dave Fields Plays
Fodera Guitars
www.fodera.com
http://www.davefields.com/wp-content/uploads/2015/06/davefeatured.jpg
172
499
davefields
http://www.davefields.com/wp-content/uploads/2018/06/davefields.jpg
davefields
2020-05-04 23:19:13
2020-05-04 23:19:13
Friday Night live!