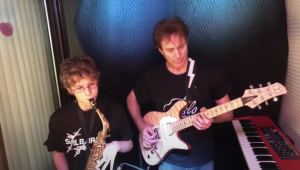 (Jasper and Dave Fields YouTube live)
Thank you everyone for being part of my last YouTube live show "Live From NYC" which I have retitled "Solo live show from LES for Norway". Your support means so much. Wow, even though Jasper is my son and he's 14 years old what do you think? He did pretty well. Huh?! In case you missed it, here's the link:
https://www.youtube.com/watch?v=JKTDgnIIblo
Again, I'm making a big push to grow my YouTube channel subscribers so please if you haven't subscribed please do so. Its free LOL!
Click here to go to the Dave Fields YouTube Channel
I'm so excited to say that I'm closing in on a release date for my upcoming CD "Force of Will". I will be making an announcement about that soon!
I'm sure like all of you we both can't wait for this virus to go away so we can go out and make some music, although I will say I'm getting a lot done HAHAHAHAHAH!
AGAIN, THANK YOU FOR YOUR LOVE AND SUPPORT!
Please everyone stay safe and healthy.
-Dave
Dave Fields Plays
Fodera Guitars
www.fodera.com
http://www.davefields.com/wp-content/uploads/2015/06/davefeatured.jpg
172
499
davefields
http://www.davefields.com/wp-content/uploads/2018/06/davefields.jpg
davefields
2020-04-29 11:52:43
2020-04-29 11:52:43
Latest Video