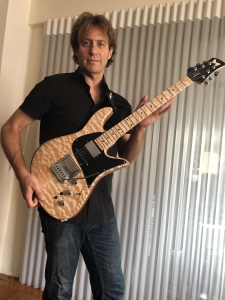 (Dave Fields Fodera Emperor Classic Guitar – Photo Judy Fields)
I know this might sound like a sales pitch but it's not meant to be, I wake up every morning and I can't wait to play my Fodera guitar! It's THAT outrageous! So outrageous that I've written a review of which I will post online.
http://www.davefields.com/fodera-emperor-classic-guitar-review-by-dave-fields/
Wow, lots of cool shows this upcoming six days:
Saturday, Oct 13th I will be the special guest/host for the October babies party organized by Bill Philips at BLUE MOON CAFÉ, Englewood NJ. I will be accompanied by "The Highly Trained Professionals".
Sunday, Oct 14th I return to Brooklyn NY's coolest wine bar/restaurant music venue TAMBOUR, 652 5th Ave Brooklyn NY 5pm. I have to tell you. I'm loving playing at Tambour. The food, the wine the ambience is amazing and I love the staff. I'm excited about the scene that proprietor's Nick and Amy DiFrisco have created there. Not to mention Nick DiFrisco is one bad-ass drummer! Anthony "TBone" McEwan will also with us on bass. It's going to be fun!
https://tambourbar.com
WOW! This is one that you're NOT going to want to miss! Monday, Oct 15th INDUSTRY CITY, 254 36th St in courtyard 1/2 Brooklyn NY 6pm Fodera Guitars presents a show of its guitar artists featuring: Joey Lauricella and Bluesball, Mike Bendy, Andy Cichon, Matt Garrison, Anthony Wellington, Reggie Young and myself. Come and hang with the legendary Fodera team that makes these amazing Fodera guitars and see an amazing night of Fodera Guitar artists!
https://industrycity.com/event/fodera-live-at-industry-city/
Tuesday, Oct 16th I continue my residency at STANHOPE HOUSE 9pm 45 Main St Stanhope NJ where I will be a special guest at the jam hosted by Carol Fredericks.
http://stanhopehousenj.com
Coming Up For Dave Fields
Oct 27th DADDY JACK'S, New London CT
I hope to see you soon!
-Dave
https://www.davefields.com/wp-content/uploads/2015/06/davefeatured.jpg
172
499
davefields
http://www.davefields.com/wp-content/uploads/2018/06/davefields.jpg
davefields
2018-10-11 12:28:59
2018-10-11 12:28:59
Big Fodera Show, Fodera Guitar Review and more!