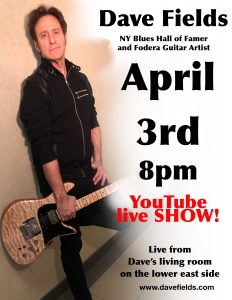 It's another week here sequestered in the lower east but for most of us throughout the world, we are all going to be confined to our homes for a little while. But that doesn't mean that we can't still have a Dave Fields show LOL!
This Friday April 3rd, 8pm EST (GMT-4) (NY time), I will be doing my first ever YouTube live show direct from my living room on the lower east side! I will be SOLO. However, I have a few tricks up my sleeve. I must confess I'm a little nervous! I hope I get the lighting and sound right. It's just ME no sound man, no lighting person, JUST ME! Whatever happens, it's going to be fun and in these trying times we could all use a little fun.
Click this link at 8pm this Friday to join the fun:
https://youtu.be/ropsh_TIkak
BTW, I was supposed to be in Rockford IL Friday and then Madison WI and then ending in Moline IL so hopefully this will make up for it!
Please come and be part of the fun. I'm excited to entertain you via YouTube. Hey, what else am I going to do???!
-Dave
Dave Fields Plays
Fodera Guitars
www.fodera.com
http://www.davefields.com/wp-content/uploads/2015/06/davefeatured.jpg
172
499
davefields
http://www.davefields.com/wp-content/uploads/2018/06/davefields.jpg
davefields
2020-03-31 11:27:08
2020-03-31 11:27:08
YouTube live from NYC Fri April 3rd