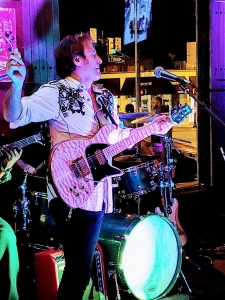 (Dave Fields at Blue Moon Cafe – Photo Rene Clark Campbell)
Hi Everyone! I have a lull in my schedule however you can still hear my music this week, I recently wrote the theme song for HBO's newest political talk show POD SAVE AMERICA. The second episode will air this Friday Oct 19th on HBO at 11pm. Here is the link to the first episode:
https://www.hbo.com/specials/pod-save-america?ds_rl=1261283&ds_rl=1258999&pid=googleadwords_int&c=Google%7CSearch%7CMKL%7CIQ_ID_-VQ16-c&camp=Google%7CSearch%7CMKL%7CIQ_ID_-VQ16-c&gclid=Cj0KCQjw9ZDeBRD9ARIsAMbAmoYMuVDHRSQXDqtzqi6Is-GNbZpbeVlYNVudWuA9qfPhMJWzwT8SFqcaAq39EALw_wcB&gclsrc=aw.ds&dclid=CPiXoprWiN4CFYioyAodUfYISg
I'm busy working away on my new CD "Force of Will". I can't wait for you to check it out when its done!
OMG…. MY NEW FODERA EMPEROR GUITAR IS GETTING MORE OUTRAGEOUS THE MORE PLAY IT!
Coming Up For Dave Fields
Oct 26th TAMBOUR, Brooklyn NY
Oct 27th DADDY JACK'S, New London CT
Nov 8th ROXY & DUKES, Dunellen NJ
Nov 13th PRELATEN, Tromsø NO
Nov 14th MONTENEGRO JAZZ & BLUES, Hammerfest NO
Nov 15th BARILA, Alta NO
Nov 16th VARDØ NO
Nov 17th LYSTGAARD, Skjerstad NO
Nov 23rd STANHOPE HOUSE, Stanhope NJ
I hope to see you soon!
-Dave
http://www.davefields.com/wp-content/uploads/2015/06/davefeatured.jpg
172
499
davefields
http://www.davefields.com/wp-content/uploads/2018/06/davefields.jpg
davefields
2018-10-17 23:25:25
2018-10-17 23:27:23
Pod Save America Theme Song HBO