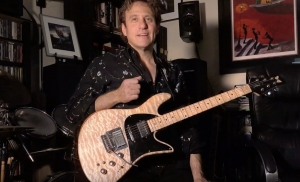 (Dave Fields in his new Fodera Emperor Video – Photo Charles Worrell)
I'm so excited to share with you my latest video shot, directed and edited by Charles Worrell that is all about my new Fodera Emperor Custom guitar:
This Friday Nov 2nd TAMBOUR, 652 5th Ave Brooklyn NY
I will be back at Brooklyn NY's coolest music – wine bar/restaurant with an evening of light blues-funk-soul-jazz with Nick DiFrisco on drums and Anthony "Tbone" McEwan on bass. Chef Leo and Chef Thomas will rock your world with his outrageous menu. I expect many special guests so bring your axe!
https://tambourbar.com
Big Show next week November 8th at Roxy & Dukes – Dave Fields & Friends with opening acts Bluesball and The Bob DelRosso band. I will have as my special guest Doc Peregrin plus more. Get your tickets now:
https://www.showclix.com/event/dave-fields-friends
Coming Up For Dave Fields
Nov 8th ROXY & DUKES, Dunellen NJ
Nov 9th TAMBOUR, Brooklyn NY
Nov 13th PRELATEN, Tromsø NO
Nov 14th MONTENEGRO JAZZ & BLUES, Hammerfest NO
Nov 15th BARILA, Alta NO
Nov 16th VARDØ NO
Nov 17th LYSTGAARD, Skjerstad NO
Nov 23rd TAMBOUR, Brooklyn NY
I hope to see you soon!
-Dave
Dave Fields Plays
Fodera Guitars
www.fodera.com
http://www.davefields.com/wp-content/uploads/2015/06/davefeatured.jpg
172
499
davefields
http://www.davefields.com/wp-content/uploads/2018/06/davefields.jpg
davefields
2018-10-31 15:29:05
2018-10-31 15:29:48
New Dave Fields Video