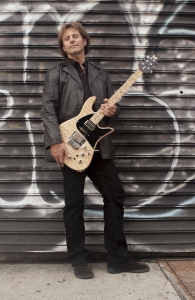 (Dave Fields NY NY)
Wow… my new Fodera Emperor guitar is a work of art… the attention to detail, the wood, the presentation is outstanding. After playing two shows with it I've come to the conclusion that it's like a cultured, refined, elegant beauty that's absolutely a masterpiece. The quilted maple top is just about the most dazzling top I've ever seen. Master luthier Vinny Fodera handpicked the neck wood which is premium select "pearloid" birdseye maple and rock birdseye maple. It's awesome…..! More pictures to come in the upcoming weeks!
This week some big shows in the Midwest!
Saturday Aug 25th CROSSROADS BLUES SOCIETY BLUES FESTIVAL Byron IL 12 noon!
I'm the opening act for the 9th annual Crossroads Blues Festival. I will have Andy Huenerberg and Matt Arbeiter with me!
http://www.crossroadsbluesfestival.com
Aug 26th FLATTED FIFTH Bellevue Iowa (Jazz show)
I return to Bellevue Iowa to the best BBQ joint on the Mississippi THE FLATTED FIFTH at Potter Mill for a special early evening jazz show! 5-8pm
http://www.pottersmill.net/musicschedule/
DON'T FORGET:
*Thursday September 6th will be the big Dave Fields – Fodera Guitar show at Club Bonafide 212 E 52nd St NY NY Featuring a night of music starting at 8pm: Opening act BLUES BALL, Elisa Brown and the amazing Reggie Young!
Coming Up For Dave Fields
Sept 6th CAFÉ BONAFIDE, NY NY
Sept 7th TWISTED TAIL, Philadelphia PA
Sept 8th PHEONIXVILLE BLUES FESTIVAL Pheonixville PA
Sept 21st STANHOPE HOUSE, Stanhope NJ
Sept 22nd PINNACLE RIDGE, Kutztown PA
I hope to see you soon!
-Dave
http://www.davefields.com/wp-content/uploads/2015/06/davefeatured.jpg
172
499
davefields
http://www.davefields.com/wp-content/uploads/2018/06/davefields.jpg
davefields
2018-08-20 16:28:19
2018-08-20 16:28:19
NEW FODERA GUITAR HAS ARRIVED!