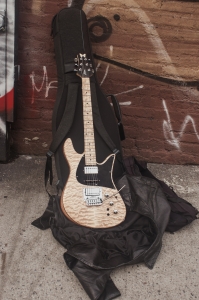 (Dave Fields new Fodera Emperor guitar! Ludlow St NY NY photo Judy Fields)
This is the big week with three huge Dave Fields shows!
This Thursday September 6th Dave Fields – Fodera Guitar show at Club Bonafide 212 E 52nd St NY NY where dave will be unveiling his new Fodera Emporer Guitar! Featuring a night of Fodera Guitar artists starting at 8pm: Opening act BLUES BALL, Elisa Brown and the grammy award winning bassist Reggie Young and his band!
For tickets:
http://clubbonafide.com/event/dave-fields-fodera-guitars-spectacular-with-bluesball-elisa-brown-reggie-young-special-guests/
Friday Sept 7th TWISTED TAIL, Philadelphia PA 9pm Philadelphia's premier blues room!
http://thetwistedtail.com
Sept 8th PHEONIXVILLE BLUES FESTIVAL Pheonixville PA 8:45pm
I WILL BE THE HEADLINING ACT!
https://pvilleblues.org
Coming Up For Dave Fields
Sept 14th STANHOPE HOUSE, Stanhope NJ
Sept 22nd PINNACLE RIDGE, Kutztown PA
Sept 28th STANHOPE HOUSE w/Stanhope All Stars!
I hope to see you soon!
-Dave
http://www.davefields.com/wp-content/uploads/2015/06/davefeatured.jpg
172
499
davefields
http://www.davefields.com/wp-content/uploads/2018/06/davefields.jpg
davefields
2018-09-04 01:08:36
2018-09-04 01:08:36
Club Bonafide NYC this Thurs Sept 6th and More!