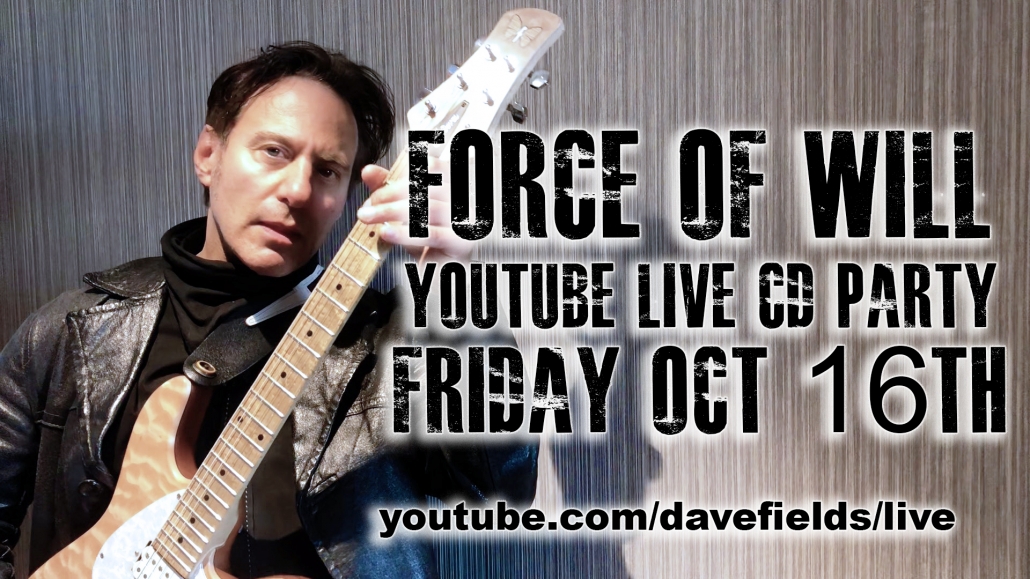 Hi Everyone!
I've waited months to do this! This Friday October 16th I'm doing my official FORCE OF WILL YouTube CD Party LIVE WITH MY BAND "Ferocious" 8:30pm Streaming LIVE from Say Watt Studios. Featuring: Buddy Allen on bass and Lee Jeffryes on drums!
https://www.youtube.com/davefields/live
I'm excited to announce that a new Dave Fields video is in the works and I will be announcing its release soon.
PLEASE CHECK OUT MY LATEST VIDEO "BIG BLOCK"
https://youtu.be/v8POqFQ2B8c
HERE ARE SOME OF THE WAYS YOU CAN BUY OR STREAM FORCE OF WILL
Physical CD's:
Dave Fields Official Website:
http://www.davefields.com/store/
Amazon:
https://www.amazon.com/s?k=Dave+fields+force+of+will&ref=nb_sb_noss_2
Streaming Services:
Spotify:
https://open.spotify.com/artist/2ZHM1FdVdVfpxzuqRNPVjf?si=Bm5UbmJvQvWIoyZWWbl1cw
Apple Music:
https://geo.music.apple.com/us/artist/dave-fields/4783601?mt=1&app=music
Amazon Music:
https://www.amazon.com/Force-Will-Dave-Fields/dp/B08C9JCHN7
ReverbNation:
https://www.reverbnation.com/davefields/song/31948547-force-of-will
Hang in there, the end is in sight, we are going to get through this. Sending much love.
-Dave
Dave Fields Plays
Fodera Guitars
www.fodera.com
D'Addario Strings
Dave Fields Artist Page
Mooer Pedals
http://www.osiamo.com/Dave-Fields
Redplate Amps
https://www.redplateamps.com
Video's
Dave Fields YouTube channel:
https://www.youtube.com/channel/UC2kCf9JedeCUV8d8Pe_KXQQ
https://www.davefields.com/wp-content/uploads/2015/06/davefeatured.jpg
172
499
davefields
http://www.davefields.com/wp-content/uploads/2018/06/davefields.jpg
davefields
2020-10-12 14:00:59
2020-10-12 14:02:41
YouTube LIVE CD Party Friday