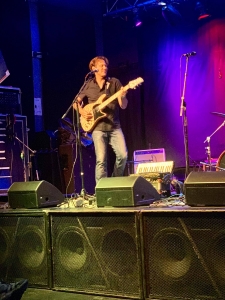 (Dave Fields at Deboniar Music Hall – Photo Celeste Homaychak)
Hi everyone!
Wow, last week was amazing. JT Lauritsen and The Buckshot Hunters rocked Debonair Music Hall, Daddy Jack's and especially Nelson's Candies!
This week is just as action packed in advance of my monthlong European tour in October!
Thursday September 26th Victor's, 500 Commerce Ave Hawthorne NY
https://victorshawthorne.com/special-events
Friday September 27th Tambour, 652 5th Ave Brooklyn NY. I will be with The Joey Lauricella Trio at South Slope Brooklyn's newest coolest music venue/wine bar restaurant
https://www.tambourbar.com
Saturday September 28th The Blue Horse Restaurant, 247 Raritan Ave Highland Park NJ 7:30-10:30pm featuring Buddy Allen and Lee Jeffryes!
https://bluehorserestaurant.com
Next Week:
October: European tour – Holland, Norway and Spitzbergen!
Oct 4th Noardewyn Live RADIO SHOW
Oct 4th MA KELLY'S MUZIEKCAFE Freischepalen NL
Oct 5th SALLY O'BRIEN Zwolle NL
Oct 6th BUCKSHOT Groningen NL
Oct 9th BJØRGVIN BLUESKLUBB Bergen NO
Oct 10th BLÅ BAR Sortland NO
Oct 11th RIGEEN BAR Andenes NO
Oct 12th LØKTA Molde NO
Oct 17-19th COLORLINE BLUES CRUISE
Oct 19th SOSIALEN Oslo NO
Oct 19th BATHUSET SCENE Fredrikstad NO
Oct 24-28th The Dark Season Festival Svalbard Spitzbergen
I hope to see you soon!
-Dave
Dave Fields Plays
Fodera Guitars
www.fodera.com
D'Addario Strings
Dave Fields Artist Page
Mooer Pedals
http://www.osiamo.com/Dave-Fields
Redplate Amps
https://www.redplateamps.com
My latest CD UNLEASHED
https://store.cdbaby.com/cd/davefields5
Video's
Dave Fields YouTube channel:
https://www.youtube.com/channel/UC2kCf9JedeCUV8d8Pe_KXQQ
Spotify
iTunes
https://itunes.apple.com/us/artist/dave-fields/4783601
Social Networking
Facebook(s)
https://www.facebook.com/fieldsmusic
https://www.facebook.com/pages/Dave-Fields/202369439809929?ref=hl
Reverbnation
Twitter:
Tweets by dbfields1
Instagram
https://www.instagram.com/davefieldsmusic/
CDBaby Page
http://www.cdbaby.com/davefields5
Website
www.davefields.com
https://www.davefields.com/wp-content/uploads/2015/06/davefeatured.jpg
172
499
davefields
http://www.davefields.com/wp-content/uploads/2018/06/davefields.jpg
davefields
2019-09-24 19:30:36
2019-09-24 19:30:36
Victor's, Tambour and Blue Horse