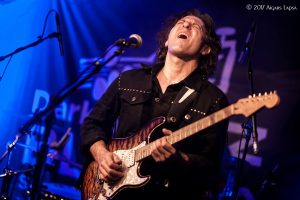 (Dave Fields DARK SEASON BLUES FESTIVAL photo Aigars Lapsa)
Hi Everyone!
Well I made it last week through the back, to back to back shows (which were so much fun) and this week looks like its going to be just as much fun!
This Thursday Feb 8th I return to VICTOR'S 500 Commerce St Hawthorne NY to play with my pals Roger Zee (bass) and Rudy Feinauer (drums). I love seeing all my Westchester friends!
Well… last Saturday went so well I got asked back to play this Saturday Feb 10TH at the Lower East Side's newest music venue, SALUGGI'S 399 Grand St NY NY 10pm. Wow, the brick oven pizza knocked me out and the staff which included Drake behind the bar and Jennifer serving food was a one two punch of delight! I'm excited to have with me the amazing Erik Boyd on bass and Matt Arbeiter on drums. Come on out and bring your axe!
http://www.saluggis.com/saluggis-east
Coming Up For Dave Fields
Feb 23rd NARVIK BLUES KLUBB Narvik Norway
Feb 24th BLUES INVEST Melbu Norway
Mar 2nd BODØ BLUES KLUBB Bodø Norway
Mar 3rd LYSGAARD, Skjerstad Norway
Mar 9th TWISTED TAIL Philadelphia PA
Mar 10th DADDY JACKS New London CT
Mar 14th THE IRON HORSE 4pm Daytona Beach FL
Mar 15th DESTINATION DAYTONA 3pm
Mar 23rd STANHOPE HOUSE
Mar 24th SALUGGI'S EAST NY NY
I look forward to seeing you soon!
-Dave
https://www.davefields.com/wp-content/uploads/2015/06/davefeatured.jpg
172
499
davefields
http://www.davefields.com/wp-content/uploads/2018/06/davefields.jpg
davefields
2018-02-06 12:35:36
2018-02-06 12:35:36
Victors and Saluggi's East NYC!