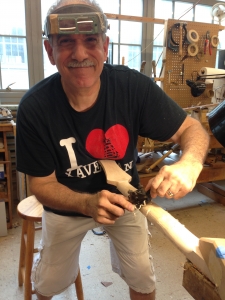 (Vinny Fodera at The Fodera Guitar factory, Brooklyn NY)
There he is, the master, the legendary luthier, Vinny Fodera as he shapes the neck for my new guitar, the (Dave Fields) Fodera Emperor classic. It's due to be done sometime around August 17th and I can't wait to get it!
I've been away the past few weeks in Norway, in upstate NY where there has been little cell service and bad WIFI so this has been my first chance to connect with you all. I hope you're summer has been going well! It's been a hectic one for me. It's been nonstop traveling!
In the upcoming weeks I will be:
Thursday August 16th I will be with Roger Zee and Rudy Feinauer at VICTOR'S 8pm 500 Commerce Ave Hawthorne NY. I always love going to VICTOR'S to see all my Westchester friends!
https://www.facebook.com/Victors500/
Saturday August 18th 8pm I will be at the legendary STANHOPE HOUSE 45 Main St Stanhope NJ for my last show of June. Special guests will be the owners of Stanhope House Matt and Jon Klein. Featuring RK Scott on bass and Sam Bryant on drums.
http://stanhopehousenj.com
Sunday August 19th 10pm I return to NYC's oldest rock club BITTER END 147 Bleecker St NY NY 10pm for a 50 minute show and a warm up for my shows in the Midwest. Featuring Andy Huenerberg on bass and Matt Arbeiter on drums
http://www.bitterend.com
*Thursday September 6th will be the big Dave Fields – Fodera Guitar show at Club Bonafide 212 E 52nd St NY NY Featuring a night of music starting at 8pm: Opening act BLUES BALL, Elisa Brown and the amazing Reggie Young
http://clubbonafide.com/event/dave-fields-fodera-guitars-spectacular-with-bluesball-elisa-brown-reggie-young-special-guests/
Coming Up For Dave Fields
Aug 25th CROSSROADS BLUES SOCIETY BLUES FESTIVAL Byron IL
Aug 26th FLATTED FIFTH Bellevue Iowa (Jazz show)
Sept 6th CAFÉ BONAFIDE, NY NY
Sept 7th TWISTED TAIL, Philadelphia PA
Sept 8th PHEONIXVILLE BLUES FESTIVAL Pheonixville PA
Sept 21st STANHOPE HOUSE, Stanhope NJ
Sept 22nd PINNACLE RIDGE, Kutztown PA
I hope to see you soon!
-Dave
https://www.davefields.com/wp-content/uploads/2015/06/davefeatured.jpg
172
499
davefields
http://www.davefields.com/wp-content/uploads/2018/06/davefields.jpg
davefields
2018-08-01 18:12:13
2018-08-01 18:12:13
Upcoming Summer Shows