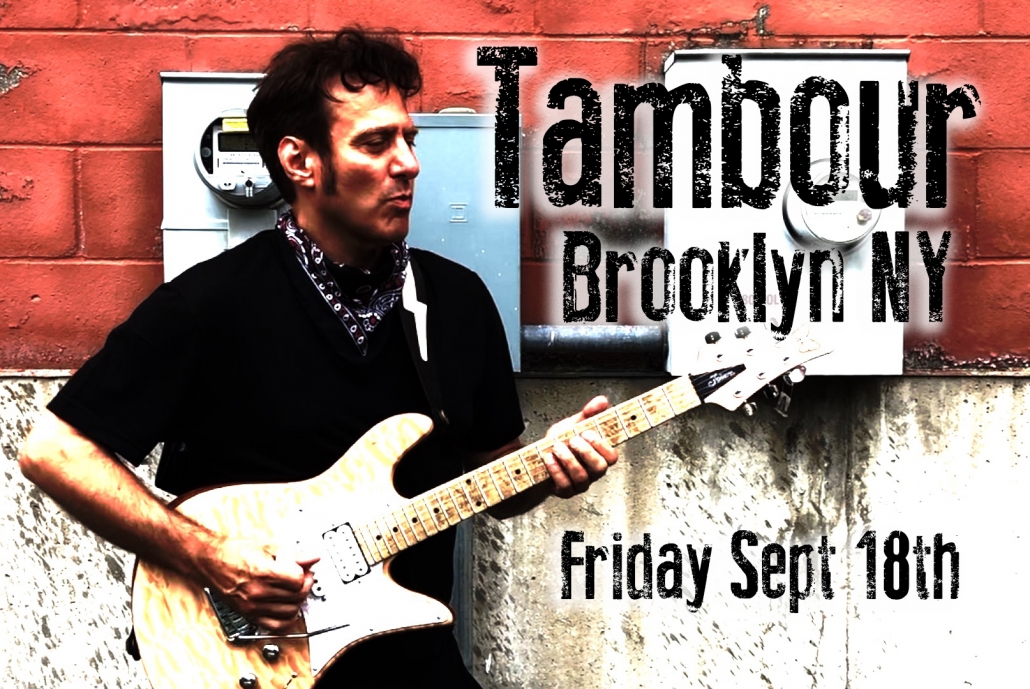 Hi everyone and Shonah Tovah (Happy Jewish New Year 5780) to all my Jewish friends!
This Friday September 18th 5pm I will be back at my Brooklyn NY home Tambour 652 5th Ave (corner of 19th St) Brooklyn NY 5-9:30pm. Come check out an evening of light blues, rock and jazz featuring the amazing Bob Franchescini on sax, Joey Lauricella on bass and Nick Difrisco on drums. Chef Adam Torres will rock your world! Make reservations, the outdoor dining has been going fast.
https://www.tambournyc.com
CHECK OUT MY LATEST VIDEO "BIG BLOCK"
https://youtu.be/v8POqFQ2B8c
Upcoming Shows
Friday and Saturday September 25-26th 5pm
Tambour 652 5th Ave (corner of 19th St) Brooklyn NY 5-9pm,
https://www.tambournyc.com
Friday October 9th at 7:pm
VILLA CAPRI 51 W Court St Doylestown PA. SOLO LIVE! I will be socially distanced playing outside. I have created some special tracks just for this show. ITS GOING TO BE FUN! I love Villa Capri! Owner Matt Mannino and staff will make you feel at home AND Villa Capri offers the best gourmet pizza Doylestown PA has to offer!
http://letsgotovilla.com
Friday October 16th
FORCE OF WILL YouTube CD Party LIVE WITH MY BAND "Ferocious" 8:30pm Streaming LIVE from Say Watt Studios. Featuring: Buddy Allen on bass and Lee Jeffryes on drums AND hopefully Vlad Barsky on keys!
https://www.youtube.com/davefields/live
Please subscribe to my YouTube channel if you haven't done so already I'm at around 470+ subscribers now. The 500th subscriber will receive a free Dave Fields tee shirt.
https://www.youtube.com/davefields
HERE ARE SOME OF THE WAYS YOU CAN BUY OR STREAM FORCE OF WILL
Physical CD's:
Dave Fields Official Website:
http://www.davefields.com/store/
Amazon:
https://www.amazon.com/s?k=Dave+fields+force+of+will&ref=nb_sb_noss_2
Streaming Services:
Spotify:
https://open.spotify.com/artist/2ZHM1FdVdVfpxzuqRNPVjf?si=Bm5UbmJvQvWIoyZWWbl1cw
Apple Music:
https://geo.music.apple.com/us/artist/dave-fields/4783601?mt=1&app=music
Amazon Music:
https://www.amazon.com/Force-Will-Dave-Fields/dp/B08C9JCHN7
ReverbNation:
https://www.reverbnation.com/davefields/song/31948547-force-of-will
Stay safe everybody, sending much love!
-Dave
Dave Fields Plays
Fodera Guitars
www.fodera.com
https://www.davefields.com/wp-content/uploads/2015/06/davefeatured.jpg
172
499
davefields
http://www.davefields.com/wp-content/uploads/2018/06/davefields.jpg
davefields
2020-09-14 19:45:58
2020-09-14 19:47:32
Tambour Brooklyn NY Fri Sept 18th 5pm