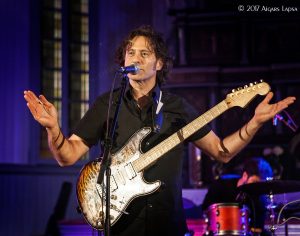 Wow! The past week has been a whirlwind! Four shows in a row plus traveling!
My first show of this Norway West Coast Tour at Grå Bar was my show show ever in Trondheim Norway. Trondheim is beautiful city and visiting Nidaros Cathedral, which is the northern most cathedral in the world, was a powerful experience. I loved meeting so many new people from Trondheim.
Our next show was in Molde at Dockside. Its ALWAYS so much fun to play in Molde and the blues fans from Molde showed up en masse.
The next day we drove to play The Easter Blues Festival in Valldal. Wow…. Valldal is BREATH TAKING! I want to go back there one day soon!
Then on Easter we played at Smutthullet Pub in Ålesund (a 100 percent rock n roll club). I was so happy to see that on Easter Sunday blues fans from all over the Ålesund area and beyond came out. It was a BLAST!
Lastly, Morten Nordskaug who is playing bass with me has been outstanding and Kåre "Lefty" Amundsen has been a force to be reckoned with. I love playing with them and they will both be in the US in a few weeks.
I am so looking forward to this week when I return to the FJORDLINE Cruise and then a show for the first time ever in Sandefjord:
Coming Up For Dave Fields
Apr 5th FJORDLINE BLUES CRUISE Bergen NO
Apr 6th FJORDLINE BLUES CRUISE Bergen NO
Apr 7th KURDBADHAGEN Sandefjord NO
DAVE'S BIRTHDAY WEEK SHOWS:
Apr 13th DOGWOOD FESTIVAL Atlanta GA
Apr 14th RUSTY NAIL Wilmington NC
Apr 19th VICTORS Hawthorne NY
Apr 20th SALUGGI'S NY NY
Apr 21st DADDY JACKS New London CT
Apr 27th STANHOPE HOUSE Stanhope NJ
I hope to see you soon!
-Dave
https://www.davefields.com/wp-content/uploads/2015/06/davefeatured.jpg
172
499
davefields
http://www.davefields.com/wp-content/uploads/2018/06/davefields.jpg
davefields
2018-04-04 07:28:37
2018-04-04 07:28:37
Report From Norway West Coast Tour