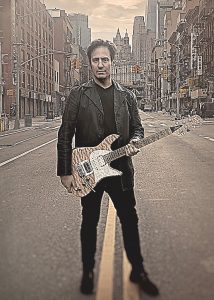 Thursday August 13th at 9:pm
FORCE OF WILL/Sonoma Beach – "My Fathers Place CD Party"
Live Stream WITH MY BAND! After five months I will be reunited with my band. Featuring Buddy Allen (bass) and Lee Jeffryes (drums). Don't worry, we will be socially distanced! Live streamed from Gary Oleyar's studio: Sonoma Beach. I can't wait!
www.myfathersplace.com/live
https://www.facebook.com/events/318946855944903/
THANK YOU ALL MY SPOTIFY FANS! The single Force of Will is already at 17,000+ plays!
https://open.spotify.com/artist/2ZHM1FdVdVfpxzuqRNPVjf?si=Bm5UbmJvQvWIoyZWWbl1cw
Upcoming Shows
Thursday Sept 12th 7pm
STANHOPE HOUSE 45 Main St, Stanhope NJ
Solo LIVE in the beer garden!
www.stanhopehousenj.com
HERE ARE SOME OF THE WAYS YOU CAN BUY OR STREAM FORCE OF WILL
Physical CD's:
Dave Fields Official Website:
http://www.davefields.com/store/
Amazon:
https://www.amazon.com/s?k=Dave+fields+force+of+will&ref=nb_sb_noss_2
Streaming Services:
Spotify:
https://open.spotify.com/artist/2ZHM1FdVdVfpxzuqRNPVjf?si=Bm5UbmJvQvWIoyZWWbl1cw
Apple Music:
https://geo.music.apple.com/us/artist/dave-fields/4783601?mt=1&app=music
Amazon Music:
ReverbNation:
https://www.reverbnation.com/davefields/song/31948547-force-of-will
Here's link to my latest video FORCE OF WILL. Please check it out and please subscribe to my YouTube channel if you haven't done so already! The 500th subscriber will receive a free Dave Fields tee shirt.
https://www.youtube.com/davefields
Thank you for your support, stay safe, much love!
-Dave
Dave Fields Plays
Fodera Guitars
www.fodera.com
https://www.davefields.com/wp-content/uploads/2015/06/davefeatured.jpg
172
499
davefields
http://www.davefields.com/wp-content/uploads/2018/06/davefields.jpg
davefields
2020-08-10 10:57:25
2020-08-10 11:09:27
My Fathers Place CD Party LIVE Thurs Aug 13th!