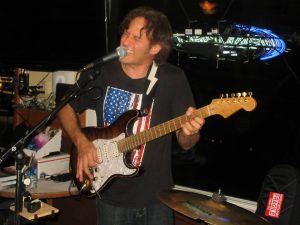 (Dave Fields at VICTORS photo Roger Zee)
This week is filled with Dave Fields fun as I travel to the Midwest! I'm driving to Nashville to pick up Steve DePra (bass) and Lee Venters (drums) and the adventure begins!
Friday Oct 6th I will be doing two Blues In The Schools presentations in the Rockford IL public school system. Then that evening at 7pm I return to THE LYRAN SOCIETY 1115 4th Ave Rockford IL 7pm for a show sponsored by Crossroad Blues Society.
The next day Saturday Oct 7th we wake up drive 2 and ½ hours west FLATTED FIFTH at POTTER MILL 300 Potter Drive Bellevue IA 8pm my favorite BBQ blues joint west of the Mississippi.
Oct 8th we drive back to Nashville for my first ever show at PAPA TURNEYS BBQ 3979 Bell Rd Nashville TN 4-7pm.
I'm going to be wiped out when I return home on Monday! LOL!
Coming Up For Dave Fields
Oct 14th BROOKLYN ROCK N' ROLL ½ MARATHON 10-11:35am (yes AM!)
Oct 18th – Nov 4th Norway Tour
Nov 11th KIEV UKRAINE
I hope to see you soon at one of my shows!
-Dave
https://www.davefields.com/wp-content/uploads/2015/06/davefeatured.jpg
172
499
davefields
http://www.davefields.com/wp-content/uploads/2018/06/davefields.jpg
davefields
2017-10-03 13:13:37
2017-10-03 13:13:37
Midwest and Nashville Bound