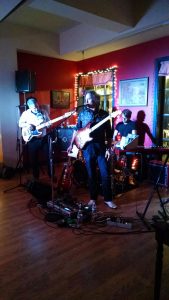 As 2016 starts wrapping up the last Dave Fields shows of the year are this week. Tonight Dec 14th I will be at LAUNDROMAT BAR 4 DeHart St Morristown NJ. With me will be the explosive combination of RK Scott on bass and Lee Jeffryes on drums. Special guest Tara Layne will also be making an appearance!
I love going to the Midwest. I have SO many friends there. I will be taking RK Scott and Jerry Lobozzo with me for four special shows. This Friday Dec 16th I will be doing two Blues In The School presentations in ROCKFORD IL: first at Lathrop Elementary School in the morning then in the afternoon at Carlson Elementary School. I love doing Blues In The Schools. I get to spread the word of the blues and I love to see how the children love the blues.
Friday night at 7pm I will be at The Lyran Society 1114 4th Avenue Rockford IL hosted by The Crossroads Blues Society for their annual Holiday party.
Saturday afternoon we will be at THE BYRON PUBLIC LIBRARY Byron IL for a blues show. I guess we will have to play extra quiet! LOL!
Wishing everyone Happy holidays!
Thank you SOOOOO much for your support this year!
New Dave Fields Videos Are Coming!
New CD: UNLEASHED
February release! Its coming!!!
Coming Up For Dave Fields
Dec 31st NYE at RANCHERO CANTINA! Emerson NJ
*$50 gets you a bottomless buffet and champagne! Paying jammers will have opportunity to sit in with band! Featuring: Tara Layne, Duchess Di and Mark Marshall!
I look forward to seeing you soon!
-Dave
https://www.davefields.com/wp-content/uploads/2015/06/davefeatured.jpg
172
499
davefields
http://www.davefields.com/wp-content/uploads/2018/06/davefields.jpg
davefields
2016-12-14 19:01:27
2016-12-14 19:01:27
Laundromat Bar TONIGHT, Rockford IL Fri/Sat