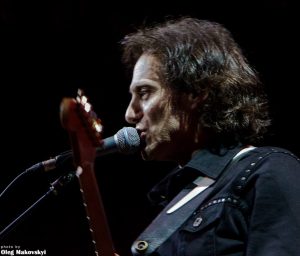 (Dave Fields, Carribean Club, Kiev Ukraine Photo Oleg Makovskyi)
Wow!
It's been a while since I've sent out a newsletter! My trip overseas to Norway, Germany, Spitzbergen and Ukraine were absolutely amazing but it took me a while to recover! Let me just say that my band: Erik Boyd (bass) and Matt Arbeiter (drums) were fantastic and I got to see so many of my friends overseas and met so many new ones. I'm excited to be back and over the next few weeks I will be sharing some of those new friends at my shows including Thursday Dec 21st at CLUB BONAFIDE where I will be doing a double bill with the amazing Deanna Bogart!
This week I will be a special guest with Rich Borge and JB Lessen at Hilltop Tavern 50 Essex St Lodi NJ on Monday November 27th which is also Jimi Hendrix's birthday!
Friday Dec 1st I return to Philadelphia's best blues music venue The Twisted Tail 509 S 2nd St Philadelphia PA. With me will be the amazing Buddy Allen on bass and Lee Jeffryes on drums, I can't wait!
Coming Up For Dave Fields
Dec 7th VICTORS Hawthorne NY
Dec 12th STANHOPE HOUSE 7pm Stanhope NJ
Dec 21st CLUB BONAFIDE 9:30pm NY NY
-Dave
https://www.davefields.com/wp-content/uploads/2015/06/davefeatured.jpg
172
499
davefields
http://www.davefields.com/wp-content/uploads/2018/06/davefields.jpg
davefields
2017-11-27 01:25:43
2017-11-27 01:25:43
Hilltop And Philadelphia!