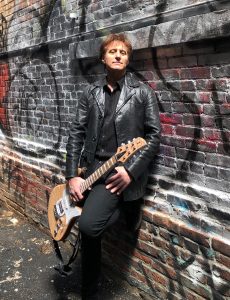 Thanks everybody for checking out my FORCE OF WILL FaceBook live CD party last Thursday!
On FaceBook:
https://www.facebook.com/davefieldsband/videos/1156330318063766/
I posted it to my YouTube Channel as well:
https://youtu.be/PCCljojVOqM
——
ROOTSTIME "FORCE OF WILL REVIEW by Eric Schuurmans
https://rootstime.be/index.html?https://rootstime.be/CD%20REVIEUW/2020/JUL1/CD65.html
" A ferocious mix of blues rock and beyond that stretches the boundaries… "
——
Music Republic Magazine
https://musicrepublicmagazine.com/2020/07/dave-fields-force-of-will-fmi-records-3rd-july-2020/
(4 / 5)
"One of the best blues albums to hit my desk in 2020 thus far. One hell of a player and makes a change to have a voice that also carries weight. Triple threat as a guitar slinger of enormous taent, a solid singer and a skilled song writer. A force of will, indeed…."
——
Sounds of the South review
http://www.sounds-of-south.de/wordpress/2020/07/07/dave-fields-force-of-will-cd-review/
——
You can stream the title track FORCE OF WILL here on my ReverbNation page:
https://www.reverbnation.com/davefields
(Featuring: Kenny Soule (drums), Buddy Allen (bass) and Vlad Barsky (keys))
HERE ARE SOME OF THE WAYS YOU CAN BUY OR STREAM FORCE OF WILL
Physical CD's:
Dave Fields Official Website:
http://www.davefields.com/store/
Amazon: FORCE OF WILL BE AVAILABLE just waiting on Amazon
https://www.amazon.com/s?k=dave+fields+force+of+will&i=popular&crid=28ETIDQGHTOVZ&sprefix=Dave+fields+force+%2Cpopular%2C143&ref=nb_sb_ss_i_1_18
Streaming Services:
Spotify:
https://open.spotify.com/artist/2ZHM1FdVdVfpxzuqRNPVjf?si=Bm5UbmJvQvWIoyZWWbl1cw
Apple Music:
https://geo.music.apple.com/us/artist/dave-fields/4783601?mt=1&app=music
Amazon Music:
https://www.amazon.com/Dave-Fields/e/B001LHVFHI?&tlws=-releasedate
Upcoming Shows
Saturday July 25th 4pm
Live on BLUES DELUXE with John Guregian 91.5 FM WUML
www.uml.org
Saturday August 9th at 7:pm
VILLA CAPRI 51 W Court St Doylestown PA. This will be my LIVE SHOW Doylestown PA CD party! Villa Capri offers the best gourmet pizza Doylestown PA has to offer! I LOVE THIS PLACE!
http://letsgotovilla.com
Saturday August 13th at 7:30pm
FORCE OF WILL Sonoma Beach LIVE STREAMED CD party SHOW WITH BAND!
http://www.facebook.com/davefieldsband/live/
Here's link to my latest video FORCE OF WILL. Please check it out and please subscribe to my YouTube channel if you haven't done so already! The 500th subscriber will receive a free Dave Fields tee shirt.
https://www.youtube.com/davefields
I AM SHOWING MY SUPPORT FOR LEGENDARY MUSIC CLUB BITTER END:
https://www.gofundme.com/f/22gz4snuk0?sharetype=teams&member=4989396&utm_medium=copy_link&utm_source=customer&utm_campaign=p_na+share-sheet&rcid=fc615e934e3e445797475401a22867a8
I hope everybody is staying safe, sending much love to you!
-Dave
Dave Fields Plays
Fodera Guitars
www.fodera.com
https://www.davefields.com/wp-content/uploads/2015/06/davefeatured.jpg
172
499
davefields
http://www.davefields.com/wp-content/uploads/2018/06/davefields.jpg
davefields
2020-07-14 17:04:14
2020-07-14 17:04:44
Great New FORCE OF WILL Reviews!