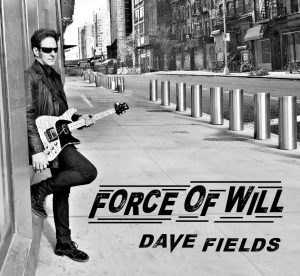 Hi everybody!
I know I've been promoting it a lot. But here it is again. My new album FORCE OF WILL will be released July 3rd. I'm so excited! I spent over three years working on FORCE OF WILL and it is a ferocious mix of blues rock and beyond that stretches the boundaries. It has some songs that I had written A LONG TIME ago and new ones that I believe are very timely and topical.
I believe now more than ever that we need to come together. Music brings us together. My goal is to have FORCE OF WILL be a part of that togetherness.
Here is a link to my latest video FORCE OF WILL. Please check it out and please subscribe to my YouTube channel if you haven't done so already! The 500th subscriber will receive a free Dave Fields tee shirt.
https://www.youtube.com/davefields
There are no Dave Fields shows or live streams for the next few weeks but stayed tuned I'm planning some cool things!
Please everyone stay safe and healthy. Sending much love to every one of you! I hope to see you soon.
-Dave
Dave Fields Plays
Fodera Guitars
www.fodera.com
https://www.davefields.com/wp-content/uploads/2015/06/davefeatured.jpg
172
499
davefields
http://www.davefields.com/wp-content/uploads/2018/06/davefields.jpg
davefields
2020-06-15 14:10:02
2020-06-15 14:11:03
FORCE OF WILL July 3rd