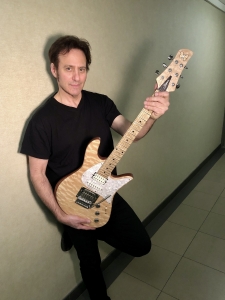 (Dave Fields with his new Fodera WHITE LIGHT)
I'm so proud and excited to introduce to you my new Fodera guitar. I'm calling it WHITE LIGHT and if you play it, you'll know why! I have never played a guitar more responsive or easier to play. Vinny Fodera, Joey Lauricella and the team at Fodera have out down themselves. Its, beautiful and just exquisite. I can't wait to play to pay it for you! I can play things on this guitar that I've always dreamt about playing!
Ok!!!!!! Enough about the guitar LOL!
This Friday 24th I return to Tambour Brooklyn NY 652 5th Ave, Brooklyn NY 9pm! Join me at South Slope Brooklyn's most exciting cool music venue, Tambour, for a night of light blues, rock and jazz. WOW, chef Adam Torres blew me away with his salmon
https://www.tambournyc.com
Coming Up For Dave Fields
Jan 30th Victor's, Hawthorne NY
Feb 1st Trinity Episcopal Church, Allendale NJ W/ MR BEYOND
Feb 28th The Triad
Big hugs to everyone!
-Dave
Dave Fields Plays
Fodera Guitars
www.fodera.com
https://www.davefields.com/wp-content/uploads/2015/06/davefeatured.jpg
172
499
davefields
http://www.davefields.com/wp-content/uploads/2018/06/davefields.jpg
davefields
2020-01-22 02:23:37
2020-01-22 02:24:29
Dave's new Fodera WHITE LIGHT guitar!