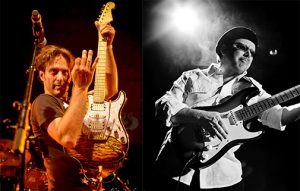 (Dave Fields & Lloyd Jones)
It's such an honor to be sharing the stage with Oregon Music hall of famer Lloyd Jones http://www.lloydjonesmusic.com. He will be with me for a show in NYC Thursday June 16th at THE GROOVE 125 Macdougal St NY NY (corner of West 3rd and Macdougal) 7-8:30pm only! Then at THE TWISTED TAIL 509 S 2nd St Philadelphia PA Friday June 17th 9pm. The last leg of our trip will take us for a show at ROCKFORD DAYS festival Rockford OH 3pm and then THE RUSTIC HAVEN St Mary's OH at 8pm. Lloyd and I will be accompanied by drumming sensation Kenny Soule and bass wiz RK Scott. ITS GONNA BE FUN!
The new issue of Big City Blues Magazine is out where I have two articles that I have written: 1) interview with NY blues icon Big Ed Sullivan and 2) write about my last trip to Europe. Check it out!
American Trash
Tonight Wednesday June 15th I will be the special guest at AMERICAN TRASH 1431 1st Ave NY NY at 77th st with Ross Daisomont. Bring your axe!
New CD: UNLEASHED
My new CD UNLEASHED is coming along and I'm so excited to finish it and release it! You will be hearing more about it in the upcoming week so stay tuned!
Coming Up For Dave Fields
Next Week:
June 22nd AMERICAN TRASH NY NY with Ross Daisomont
June 29th STANHOPE HOUSE I will host the "Jam band Jam" 45 Main St Stanhope NJ 6pm
July 9th NORMAN PARK GA
NEW DAVE FIELDS VIDEO!
This is the cadenza from TRAIN TO MY HEART shot live at Al Weber's studio:
https://youtu.be/O5HZa9NG8AM
I look forward to seeing you soon!
-Dave
https://www.davefields.com/wp-content/uploads/2015/06/davefeatured.jpg
172
499
davefields
http://www.davefields.com/wp-content/uploads/2018/06/davefields.jpg
davefields
2016-06-15 14:59:23
2016-06-15 15:01:03
Dave Fields & Lloyd Jones this week NYC, Philly and OH!