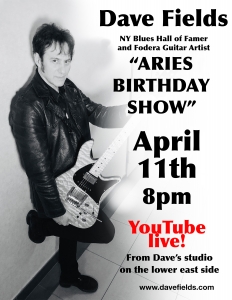 It's been another tough week here throughout the world. Especially here in NYC… Life goes on and we will triumph over this virus.
I was supposed to be having my big Aries birthday bash this Saturday in Phoenixville PA but obviously things in the world have changed. But that's ok, there ain't nothing like an Aries birthday party LOL!!!! The show must go on!
This Saturday April 11th, 8pm EST (GMT-4) (NY time), please join me as well as my fellow Aries to celebrate my birthday (and Robin Bacote's) for a YouTube live show direct from my lower east side NYC recording studio. Hey, we could all use a little fun during these times huh? Let's put our cares behind us Saturday and pour a drink in front of your computer, TV, iPad or whatever you use to go online. Hey, it's not like you're going to be driving anywhere?! Special guest TBA!
Thank you all your viewers who were part of the show last week!!!
Click this link at 8pm this Saturday to be part of it:
https://youtu.be/7FEskEsD_9s
This show is solemnly dedicated to my dear friend Simon Haddad who recently passed away. Whatever I play Saturday will be a celebration of his life as well.
-Dave
Dave Fields Plays
Fodera Guitars
www.fodera.com
https://www.davefields.com/wp-content/uploads/2015/06/davefeatured.jpg
172
499
davefields
http://www.davefields.com/wp-content/uploads/2018/06/davefields.jpg
davefields
2020-04-06 13:42:15
2020-04-06 13:42:15
Aries Birthday Show April 11th