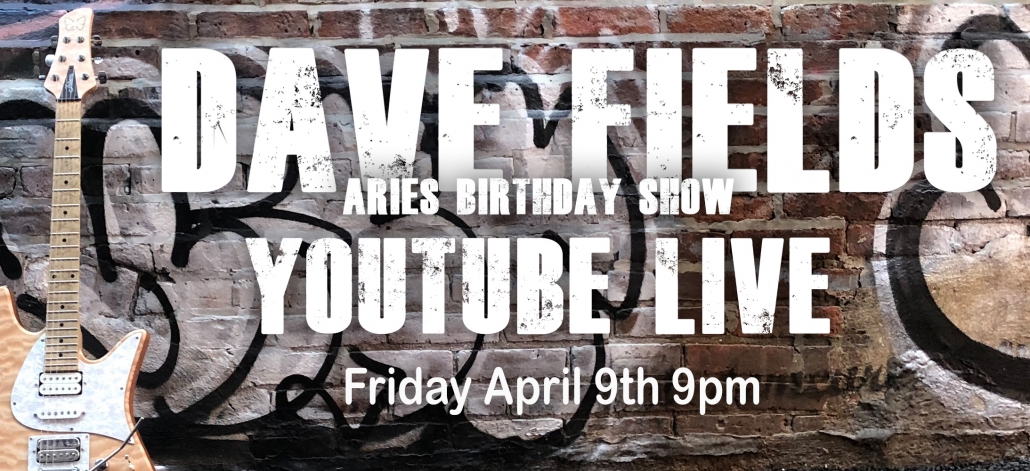 Spring has sprung and it looks like things are slowly opening up. This week I have 3 EVENTS!
It's a week of ARIES BIRTHDAYS LOL!
Friday April 9th at 8pm The Aries birthday YouTube live stream will be featuring my band FEROCIOUS: Buddy Allen on bass and Lee Jeffryes on drums streamed live from Al Weber's Lumberyard studio in Nutley NJ.
https://www.youtube.com/watch?v=USze2WYnSL4
OR
http://youtube.com/davefields/live
Saturday April 10th VILLA CAPRI 51 West Court St Doylestown PA SOLO SHOW. The birthday party continues at my favorite Doylestown music venue!
http://letsgotovilla.com
I know this out of time sequence:
Thursday April 8th 8pm STANHOPE HOUSE FaceBook live stream from the STANHOPE HOUSE FaceBook page
https://www.facebook.com/stanhopehouse
NEXT WEEK:
Wednesday April 14th 6:45pm BITTER END Force of Will CD party! LIVE WITH BAND!
I am SOOOOO excited to return to my NYC music home, the legendary BITTER END 147 Bleecker St NY NY for my long awaited NYC CD release party. Featuring the amazing Tony Tino on bass and Kenny Soule on drums. $25.00 include FORCE OF WILL CD!
http://www.bitterend.com
Upcoming Shows
May 1st DEBONAIR MUSIC HALL Teaneck NJ FORCE OF WILL CD PARTY with band
May 29th CROSSROADS BLUES SOCIETY Rockford Illinois.
Check out my latest video BIG BLOCK live featuring: Buddy Allen/bass, Lee Jeffryes/drum and Vlad Barsky/keys. Shot live at Al Weber's studio in Nutley NJ Jan 2020.
https://youtu.be/kOwL7My0src
Please everybody stay safe!!! The end is in sight.
Much love!
-Dave
Dave Fields Plays
Fodera Guitars
http://www.fodera.com
D'Addario Strings
Dave Fields Artist Page
Mooer Pedals
http://www.osiamo.com/Dave-Fields
Redplate Amps
https://www.redplateamps.com
Spotify
iTunes
https://itunes.apple.com/us/artist/dave-fields/4783601
https://www.davefields.com/wp-content/uploads/2015/06/davefeatured.jpg
172
499
davefields
http://www.davefields.com/wp-content/uploads/2018/06/davefields.jpg
davefields
2021-04-05 17:49:33
2021-04-05 17:49:33
Aries Birthday live stream Friday and more!