Wow!!!! I'm so psyched! I've been away on tour in Norway and I get back and "ALL IN" is number 5 on the RMR Blues Charts! WOOHOO!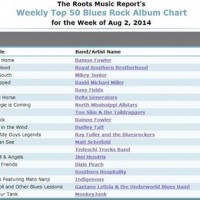 I try to post something every week but the past two weeks were just a whirlwind of amazing experiences. First of all my wife Judy and I flew to Oslo July 23rd. It was her first time to Norway and I was so excited to share the amazingness and enchantment of Norway. Surprisingly the weather was HOT! It was in the 80's (30 c) and being so far north the sun was a little overbearing. We spent two days in Oslo and then we headed to the west coast and more specifically Veiholmen Norway for The Smøla Blues Klubbs festival. Wow, being there reminded me of New England only a lot less crowded and utterly beautiful. The sun never set, it stayed dusk from about 11:30pm until 3:30 then the sun would slowly sneak out until it was REALLy out around 5am. The crowd was awesome and I got to see many of my Norwegian friends like Nina Hansen, Syver Srøbka, Rolf Johannessen, Ellen Pederson….. TOO MANY TO LIST!!! My Norwegian band: Kåre Amundsen and Bjørn Hagset KICKED ASS they played with BIG BALLS! LOL!
After Smøla we did an afternoon show in Krstiansund Norway at this lovely cafe called GAANVERKEN then we played at the legendary Kristiansund rock bar FASTING KJELLEREN. The place was packed and it was awesome!
We had the next 6 days off so Judy and I headed to one of my favorite Norwegian places: Molde Norway. Molde is situated on the lovely Fannet Fjord which is flanked by 200+ mountain peaks. Anyone who's seen it will agree with me, its spellbinding! We connected with Kåre's lovely wife and my Norwegian aries sister Ragnhild and spent morning's eating Svela (a west coast Norwegian delicacy somewhat like pancakes but with sugar and butter) and sipping tea while viewing the fjord. Judy and I decided to visit the neighboring city of Ålesund which is a lovely almost Austrian looking town and hour and a half east of Molde. After taking the ferry to Vestnes and through the countryside we arrived in Ålesund and spent the day exploring. The highlight of our excursion was taking the Hurtigruten boat back through the fjords to Molde, a three hour trip, which was mesmerizing! Wow, if you ever go to Norway YOU HAVE TO DO THAT! When we arrived back at our hotel, The Molde Fjord Steurer (which I HIGHLY recommend) we both were in agreement, we were in love with Molde.
Our next stop was back to Oslo where went to Vigeland (an amazing sculpture park and a national treasure), The City Hal where they give out the Nobel Peace Prize and The Opera (which is the most beautiful Opera house I have ever seen). The Opera house is aped like a glacier…. OMG!!!!
My last show(s) was The Notodden Blues Festival and I was slated to perform three shows on the boat cruise then a late show at the legendary Notodden music venue BELLMAN PUB. Before I performed I was asked by The Norwegian Blues Union to be a judge at their blues challenge. It was so hard to pick a winner, the bands were all great…!
The boat cruise was out of this world, with patrons sitting right in front of me. We were so lucky to get the greatest "handler" the lovely Anita Haugen who took such great care of us. It was supposed to rain but the blues gods prevailed and the weather was perfect. I don't want to forget, bass wiz Trond Hansen was with us and he was truly wonderful. My wife Judy fell in love with him and I though he played with big balls as well (…did I just say big ball again??? OMG! Am I allowed to do that??!!!) WE SOLD 84 CD'S! That's a new Dave Fields record!
The evening show at BELLMAN PUB was equally as amazing. It was steamy, rockin' and I didn't want to stop!!!! What an honor to be included! I want to thank Jostein Forsberg who runs Notodden Blues so much! Need less to say I was "toast" the next day after doing four shows in one day but it was worth it!
After Notodden we said our goodbyes to Kåre Amundsen and his wife Ragnihld and Trond Hansen and we headed back to Oslo where we stayed at the Comfort Hotel Børskparken which I also highly recommend. We met with guitarist/DJ Stig-Ole Skaldabø and also sat in at STOP PRESSEN. Most importantly we met with my Bro AND Notodden Blues Prize Winner JT Lauritsen and his lovely wife Marion. We had a sumptuous dinner and chatted the evening away. The next day we were so sad to leave. Norway captured both Judy and my heart. Its a land of the nicest people, the cleanest water and air and, of course the blues! I will be back in October and I hope to have some exciting news soon!!!!!
Thanks for reading! I hope to see you soon at one of my shows!!!!!
-Dave
https://www.davefields.com/wp-content/uploads/2015/06/davefeatured.jpg
172
499
davefields
http://www.davefields.com/wp-content/uploads/2018/06/davefields.jpg
davefields
2014-08-08 20:32:08
2014-08-08 20:32:08
"ALL IN" at #5 on RMR Blues Rock Charts!