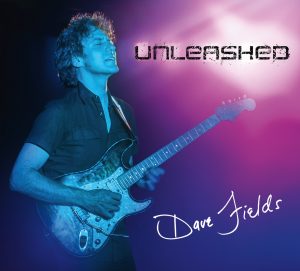 Give your sweet heart the gift of blues rock gone wild, the new Dave Fields CD UNLEASHED! I'M SO EXCITED ITS OUT!
http://www.cdbaby.com/davefields5
New Videos!
Here is a sneak preview of the first cut of my new CD "UNLEASHED". This is Anticipating You:
https://youtu.be/bB4JzTMzdd8
Here is an interview that NYC interviewer and host of UNDERGROUND LIVE Charles Worrell did of me this past fall:
Check out the interview of me in the latest issue of Big City Rhythm And Blues Magazine by Guy Powell!
This week
This Wednesday February 16th I will make my first time ever appearance at The OWL PUB at RIVARA'S Fair Lawn NJ. I will be doing a special solo acoustic show playing songs from my new CD UNLEASHED.
http://www.rivaras.com
US Reviews
By Mark E Waterbury (Music Morsals)
https://musicmorsels.wordpress.com/2017/02/04/capsule-reviews-by-mark-e-waterbury-16/
By Chris Spector (Midwest Records)
http://www.midwestrecord.com/MWR1179.html
By Roger Zee (The Working Musician)
http://theworkingmusician.com/reviews/Unleashed.html
By Bob Creenan (Hearing Aide)
Europe Reviews
By Mladen Loncar (SOUND GUARDIAN)
http://www.soundguardian.com/dave-fields-unleashed
By Eric Campfens (Barn Owl Blues)
http://barnowlblues.punt.nl/content/2017/01/Dave-Fields–Unleashed
By Eric Schuurmans (Rootstime)
http://www.rootstime.be/index.html?http://www.rootstime.be/CD%20REVIEUW/2017/JAN1/CD68.html
By Philip Verhaege (Keys and Chords)
http://www.keysandchords.com/album-review-blog/dave-fields-unleashed
Coming Up For Dave Fields
Mar 1st AMERICAN TRASH NY NY 8pm-midnight
Mar 3rd SONA THIRTEEN Morristown NJ 5:30-8pm
Mar 11th THE FAR SIDE TAVERN Hoboken NJ
Mar 12th ROBINS NEST Anniversary party! Linden NJ
Mar 29th AMERICAN TRASH NY NY 8pm-midnight
Apr 7th KIEV HILTON Kiev Ukraine
UNLEASHED CD PARTIES
Mar 9th MEXICALI LIVE Teaneck NJ 8pm TICKETS
Mar 10th DADY JACKS New London CT 8:30pm
Mar 17th LAUNDROMAT BAR Morristown NJ 7:30-10pm
Mar 30th VICTORS Hawthones NY
Apr 21st 12 GRAPES Peekskill NY 9pm
Apr 27th STANHOPE HOUSE Stanhope NJ 7pm
-Dave
https://www.davefields.com/wp-content/uploads/2015/06/davefeatured.jpg
172
499
davefields
http://www.davefields.com/wp-content/uploads/2018/06/davefields.jpg
davefields
2017-02-14 17:07:38
2017-02-14 17:07:53
UNLEASHED IS OFFICIALLY OUT!