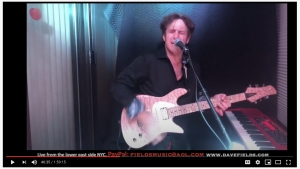 Hi Everyone!
I want to thank those of you who checked out my Aries Birthday YouTube live show! There was an issue with the link when the show started. I know that many of you could not watch the show. In case you missed it here is the link:
https://youtu.be/HSselmzpRa0?t=741
On a personal note, not that my newsletters are not personal! My family: Judy, my son Jasper and I have been riding it out here in the center of the Coronavirus storm on the lower east side. Being a native New Yorker, there are many things that annoy me and thrill me about this amazing city that we live in. Most recently it's nice to see how people have been taking social distancing and wearing masks to heart. We are truly a team as a nation now working together to get past this pandemic. I'm wishing every one of you readers that you stay safe and healthy through this tragic era in our history.
Also, I will be announcing a special YouTube live "From NYC" afternoon show that will be geared for my European fans. Stay tuned for info on that!
Again, stay safe. I plan to see you all when this virus passes.
Huge hugs from six feet away.
-Dave
Dave Fields Plays
Fodera Guitars
www.fodera.com
http://www.davefields.com/wp-content/uploads/2015/06/davefeatured.jpg
172
499
davefields
http://www.davefields.com/wp-content/uploads/2018/06/davefields.jpg
davefields
2020-04-14 13:22:43
2020-04-14 13:22:43
YouTube Live shows