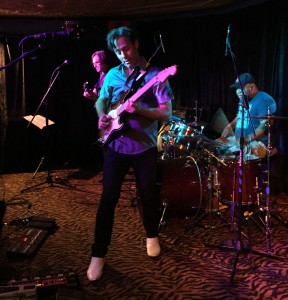 (Dave Fields Band: Andy Huenerberg, Dave Fields & Sam Bryant Photo Judy Fields)
First of all Jasper goes back to school this week. Just in time for my latest video:
"WAKE UP JASPER"
I love weeks like this when I'm playing almost everyday of the week! This Thursday September 10th I will be the special with Roger Z & Rudy Feinauer at VICTOR'S 500 Commerce St Hawthorne NY 8pm. BRING YOUR AXE! We gonna be jamming!
Friday September 11th at 9am I will be the special guest on THE SAM TAYLOR BLUES SHOW with Mark Klein on WUSB FM 90.1 Stony Brook University http://www.wusb.fm immediately after that I will perform at Stony Brook University Pediatric Intensive Care Unit for the children.
This Saturday September 12th I will be the headlining act for the first ever LIVE BLUES PRESERVATION GUILD FALL FESTIVAL in Rockford OH featuring my other NJ band "The Pisan's": Jerry Lobozzo on drums and Joh Meola on bass. Its sure to be a fun filled show and the promoter of the festival WRKD DJ John Dooley and his wife Trish are the most amazing hosts! I can't wait!
Dave Fields NY All Stars
Check out the new videos of my new side project!:
http://www.reverbnation.com/davefieldsnyallstars
DAVE FIELDS "Got A Hold On Me" VIDEO
Here's my latest new live video of "Got A Hold On Me" from my latest CD ALL IN featuring the fabulous Kenny Soule on drums and the thundering bass of Erik Boyd and with me playing my white Old Moon SS-1!
Coming Up For Dave Fields
First of all, HAPPY NEW YEAR to all my fellow Jewish friends!
Friday September 18th I will be doing a Rockford IL "Blues In The Schools" presentation at West Middle School at 10:30am and then at Maria Montessori School and Thurgood Marshall School at 2pm
Sunday September 20th I will be the headlining act at Riverside Festival of The Arts in Easton PA at 5pm!
Stay tuned for even MORE new Dave Fields videos that are soon to be released!
I hope to see you at one of my shows AND please feel free to contact me, I love hearing from my fans!
-Dave
http://www.davefields.com/wp-content/uploads/2015/06/davefeatured.jpg
172
499
davefields
http://www.davefields.com/wp-content/uploads/2018/06/davefields.jpg
davefields
2015-09-08 02:42:56
2015-09-08 02:42:56
Wow! It's a Dave Fields Week Long Show Extravangza!