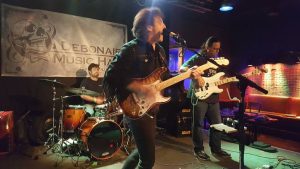 (Dave Fields Band DEBONAIR MUSIC HALL photo Rich Borge)
Wow, last week was a lot of traveling and I'm just recovering now LOL! The show at NH Motor Speedway at the ISM Connect 300 was a blast and I made a lot of new friends.
This week is going to be awesome as I return to play with Roger Z and Rudy Feinauer at Sept 28th VICTORS 500 Commerce St Hawthorne NY 8:30pm bring your axe!!!!
Next week is going to be nuts!:
Coming Up For Dave Fields
Oct 6th LYRAN SOCIETY Rockford IL
Oct 7th FLATTED FIFTH Bellevue IA
Oct 8th PAPA TURNEYS BBQ Nashville TN
Oct 18th – Nov 4th Norway Tour
Nov 11th KIEV UKRAINE
I hope to see you soon at one of my shows!
-Dave
http://www.davefields.com/wp-content/uploads/2015/06/davefeatured.jpg
172
499
davefields
http://www.davefields.com/wp-content/uploads/2018/06/davefields.jpg
davefields
2017-09-27 12:13:25
2017-09-27 12:13:25
Victors – Hawthorne NY