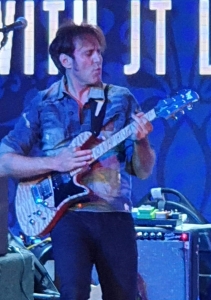 There's no rest for the weary lately but hey, musicians gotta play right?! "There's no business like show business…"! That's what my dad "Forever" Fields always says!
This week I return to my Brooklyn NY "residency" and my favorite music-wine bar Friday Nov 8th, Tambour 652 5th Ave Brooklyn NY featuring Joey Lauricella on bass, Nick DiFrisco on drums and the amazing Vlad Barsky on keys! Make your reservations now, its going to be an incredible night!
https://www.tambourbar.com
I know I've listed my shows for next week below, I just want to do an extra "plug" for my big double bill show next Thursday Nov 14th 7:30pm at Stanhope House 45 Main St Stanhope NJ. I will be playing with the NY areas hottest new progressive rock band Mr B then doing a Dave Fields set. Its going to be a fantastic night! Get your tickets here:
https://stanhopehousenj.com/2019/10/11/mr-b-the-music-of-bill-bruford-and-beyond-with-dave-fields/
Coming Up For Dave Fields in November
8th Tambour Brooklyn NY 9pm
13th Roxy & Dukes, Dunellen NJ special guest w/Lenny DePiano
14th Stanhope House, Stanhope NJ double bill with Mr B
16th The Lucky Well, Warrington PA
22nd Tambour Brooklyn NY 9pm
23rd The Blue Horse, Highland Park NJ
30th Hilltop Tavern, Lodi NJ
-Dave
Dave Fields Plays
Fodera Guitars
www.fodera.com
D'Addario Strings
Dave Fields Artist Page
Mooer Pedals
http://www.osiamo.com/Dave-Fields
Redplate Amps
https://www.redplateamps.com
http://www.davefields.com/wp-content/uploads/2015/06/davefeatured.jpg
172
499
davefields
http://www.davefields.com/wp-content/uploads/2018/06/davefields.jpg
davefields
2019-11-04 15:55:55
2019-11-04 15:55:55
Tambour Friday, Stanhope and PA next week!