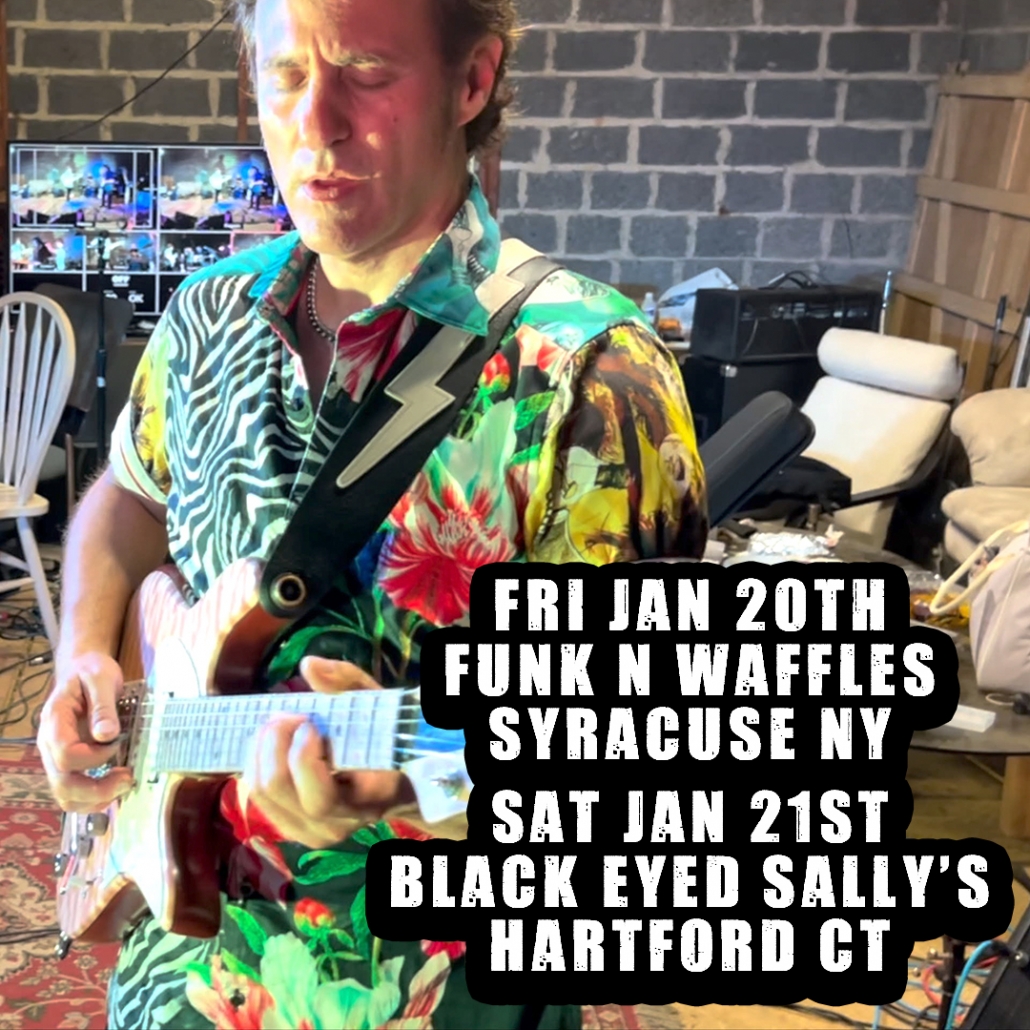 (Photo Jasper Fields)
Hello everybody!
This Friday January 20th I will be at FUNK N WAFFLES 307-13 S Clinton St, Syracuse NY featuring Steve DePra on bass and Dave Chitambar on drums.
https://funknwaffles.square.site
Then, the next day, Saturday January 21st BLACK EYED SALLY'S Hartford CT featuring the amazing Liviu Pop on drums and Kenny Thorstenson on bass. 8pm
https://www.blackeyedsallys.com
Weekly Video
Dave Fields with The Parker Street Trio – LITTLE WING – a tribute to Jeff Beck at The Watt Hotel Rahway NJ, January 14th 2023. Featuring: Kenny Thorstenson/bass, Raul Coco-Diaz/drums and Dennis Matusche/keys.
​​https://youtu.be/nhkVan2hb1s
Please subscribe to my YouTube Channel if you haven't done so already!
https://www.youtube.com/davefields
Video Premier of LYDIA live Official Video January 30th!
Coming Up:
Fri Jan 27th PICKETT'S VILLAGE BAR 2208 Millburn Ave, Maplewood NJ
https://pickettsvillage.bar/event/dave-fields/
Sat Feb 11th Great Notch Inn 400 Rt 46 W, Woodland Park NJ 9pm
http://www.thegreatnotchinn.com/
Sat Feb 25th WATT HOTEL 8pm with The Parker Street Trio 1403 Irving St, Rahway NJ
https://www.hilton.com/en/hotels/ewrmkup-watt-hotel-rahway/?SEO_id=GMB-AMER-UP-EWRMKUP&y_source=1_MTI3OTUyNTQtNzE1LWxvY2F0aW9uLndlYnNpdGU%3D
Fri Mar 10th STANHOPE HOUSE 45 Main St, Stanhope NJ – Dave Fields Presents Stanhope Jazz. Featuring: Burr Johnson/Dave Fields band. Opening act: Parker Street Trio.
https://stanhopehousenj.com
Stay safe! Much love.
-Dave
http://www.davefields.com/wp-content/uploads/2015/06/davefeatured.jpg
172
499
davefields
http://www.davefields.com/wp-content/uploads/2018/06/davefields.jpg
davefields
2023-01-16 19:02:40
2023-01-16 19:02:40
Syracuse and Hartford this week!