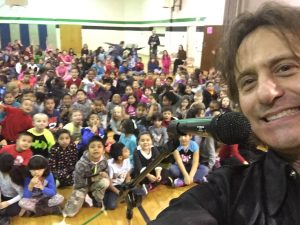 (Dave Fields BLUES IN THE SCHOOLS Lathrop Elementary School Rockford IL)
New Underground Live interview with Charles Worrell!!!!
NYC interviewer and host of UNDERGROUND LIVE Charles Worrell interviewed me this past fall:
https://youtu.be/suQJda11RzQ
NEW UNLEASHED REVIEW!
By Chris Spector Midwest Records
DAVE FIELDS/Unleashed: He might fancy himself as a blues rocker, but this guitar slinger has the chops and know how to deliver the hits to all fields. Falling distinctly somewhere between bombast and lightweight, Fields does much more than dazzle with rapid scale runs by showing he knows how to coax great sounds from his ax. This is how it was once at the Fillmore before all the cats could afford coke and think some noodling half hour jam that didn't go anywhere was profound. Powered by bring the kind of date where the music itself is the drug, you can really get real high on the tunes this cat kicks out. Well done.
http://www.midwestrecord.com/MWR1179.html
Wednesday Jan 18th I will be at SONA THIRTEEN 13 South St Morristown NJ for a special solo acoustic show from 5:30-8pm.
http://www.sonathirteen.com
Thursday Jan 19th I will be back at my favorite place to be in Westchester on Thursdays VICTORS 500 Commerce Ave Hawthorne NY with my pals Roger Zee and Rudy Feinauer. Bring your axe its always a jammin'party!
"UNLEASHED"
UNLEASHED will officially be out Valentines Day Feb 14th 2017.
Coming Up For Dave Fields
Jan 31st THE COUNTRY Nashville TN
Feb 1st-4th I will be attending the International Blues Contest in Memphis TN!
UNLEASHED CD PARTIES
Mar 9th MEXICALI LIVE Teaneck NJ 8pm TICKETS
Mar 10th DADY JACKS New London CT 8:30pm
Apr 6th STANHOPE HOUSE Stanhope NJ 7pm
Apr 7th TWISTED TAIL Philadelphia PA 9pm
Apr 21st 12 GRAPES Peekskill NY 9pm
-Dave
http://www.davefields.com/wp-content/uploads/2015/06/davefeatured.jpg
172
499
davefields
http://www.davefields.com/wp-content/uploads/2018/06/davefields.jpg
davefields
2017-01-15 03:43:51
2017-01-15 03:43:51
Sona 13, Victors, New Review and Video