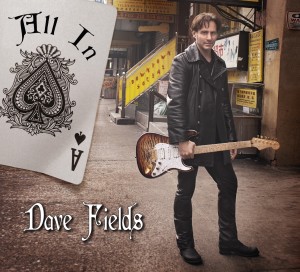 ALL IN was in the top 5 of The Roots Music Report Blues Rock Charts from August 25th 2014 to February 22nd 2015!
ALL IN features 11 songs produced by Dave: 9 originals an, a funky 'live' version of Led Zep's "BLACK DOG" and a burning rendition of the timeless classic "CROSSROAD".
To purchase a physical "ALL IN" CD click here!
To purchase a download of "ALL IN" click here!
ALL IN was recorded mostly live in the studio. It features many of the same musicians on Dave's first three CD's TIME'S A WASTIN', ALL WOUND UP & DETONATION: Andy Huenerberg (bass), Kenny Soule (drums), Vladimir Barsky (keys), Dave Moore (drums) and some new comers: Tony Tino (bass) and special guest BMA nominee Dave Keyes (piano).
There are many different flavors of Dave featured on this CD. The rockin'-fatalistic "Changes In My Life" starts off the CD with a scintillating guitar solo that zooms off into the clouds. Dave blazes away on the spooky-rock "Voodoo Eyes" which will take you to a place where classic rock legends dwell. "Let's Go Downtown" will get you "boogie-in" your seat while the surreal-lamenting "Dragon Fly" drifts through layers of realities. ALL IN winds down a road that will take you to your limit and then drop you in a place that will make you say, "Oh Yeah!"
To purchase a physical "ALL IN" CD click here!
http://www.davefields.com/wp-content/uploads/2015/06/davefeatured.jpg
172
499
davefields
http://www.davefields.com/wp-content/uploads/2018/06/davefields.jpg
davefields
2014-05-19 15:08:42
2014-05-19 15:08:42
Dave Fields New CD "ALL IN" 32 Weeks in the Top 10 RMR Blues Rock Charts