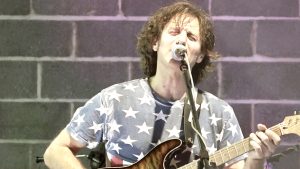 (Dave Fields live at Al Webers from CHILD OF THE WORLD video)
Hi Everyone!
This week I will be in Morristown 2x's then Hawthorne NY:
Tonight Tuesday November 15th at 7:30pm I will be at SONA THIRTEEN 13 South St Morristown NJ for a special last minute solo acoustic show.
http://www.sonathirteen.com
Wednesday November 16th at 7:30pm I will be back in Morristown at LAUNDROMAT BAR 4 DeHart St Morristown NJ with my band featuring Lee Jeffryes on drums and RK Scott on bass plus special guests!
http://www.thelaundromatbar.com
Thursday I return to my favorite Thursday night Westchester jam, VICTORS 500 Commerce St Hawthorne NY 8:30pm featuring Tom Sprock on bass and Rudy Feinauer on drums. Sadly, Roger Z is taking the night off. Bring your axe!
https://www.facebook.com/search/104271686303685/local_search?surface=tyah
New Dave Fields Videos Are Coming!
I'm just finishing editing a live version of CHILD OF THE WORLD (the next single on my upcoming CD "UNLEASHED") featuring Kenny Soule, Erik Boyd, Vlad Barsky & Doug Hinrichs.
New CD: UNLEASHED
Its coming, its coming!
Coming Up For Dave Fields
Dec 2-3rd THE SLIPPERY NOODLE Indianapolis IN
Dec 10th DADDY JACKS New London CT
Dec 16-17th ROCKFORD IL
Dec 31st NYE at RANCHERO CANTINA! Emerson NJ
I look forward to seeing you soon!
-Dave
http://www.davefields.com/wp-content/uploads/2015/06/davefeatured.jpg
172
499
davefields
http://www.davefields.com/wp-content/uploads/2018/06/davefields.jpg
davefields
2016-11-15 17:06:04
2016-11-15 17:06:13
Morristown 2x's and Victors!