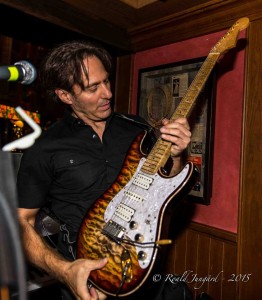 Happy Thanksgiving!
Wishing you all a happy, happy BIRD DAY (and I'm not referring to Charlie Parker!)
Wow, next week is going to be nuts!
Tuesday Dec 1st I will be hosting the jam at The Stanhope House 45 Main St. Stanhope NJ featuring my co-host Johnny Charles. Get there early to sign up, the list closes at 9:30pm. No solo acoustic please. https://stanhopehousenj.com
Thursday Dec 3rd Dave Fields Band will be doing its last 2015 NYC show at DESMOND'S TAVERN 433 Park Ave NY NY http://www.desmondstavernnyc.com featuring Michael Muller on bass and Jerry Lobozzo on drums.
Friday Dec 4th Dave Fields NY All Stars will be at ROBIN'S NEST 3103 Tremley Point Rd Linden NJ http://www.robinsnestrhythmandblues.com where I will be recording the show for the Dave Fields upcoming CD "UNLEASHED" featuring Andy Huenerberg on bass and Dave Moore on drums.
Saturday Dec 5th I will be making an appearance for my friend Juliet Goldsand's birthday at TAGINE 221 West 38th St NY NY featuring the flaming vocals of Amy Coleman.
Coming Up For Dave Fields
Friday Dec 11th I will be back at The Twisted Tail
Due to an event, The Stanhope House Tuesday night jam will be on Wednesday Dec 16th
Friday Dec 18th I will be hosting and performing at The Dave Fields Holiday Spectacular at The Stanhope House featuring Sari and many special guests!
Saturday Dec 19th I return to THE RUSTY NAIL, Wilmington NC!
New Dave Fields CD
I've been hard at work on my next CD which will be entitled "UNLEASHED"! The tracks are turning out great!!
I look forward to seeing you soon!
-Dave
http://www.davefields.com/wp-content/uploads/2015/06/davefeatured.jpg
172
499
davefields
http://www.davefields.com/wp-content/uploads/2018/06/davefields.jpg
davefields
2015-11-26 14:08:02
2015-11-26 14:08:02
Happy Thanksgiving & Dave Fields upcoming shows!