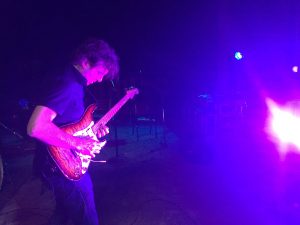 (Dave Fields Band at Al Weber's photo Judy Fields)
Just when I think I can skip a week and not send out a newsletter a last minute show comes up.
Friday Dec 23rd I will be doing a last minute show at LAUNDROMAT BAR 4 DeHart St Morristown NJ. With me will be the explosive combination of RK Scott on bass and Lee Jeffryes on drums. Special guest Tara Layne will also be making an appearance! I LOVE Laundromat Bar. Its got a speakeasy vibe. As you enter the front doors which is disguised as a Laundromat, you walk down some stairs and enter the coolest night club, complete with band stand. Don't miss this show! It's going to be ferocious!
http://www.thelaundromatbar.com
New Dave Fields Videos Are Coming!
The live version of the first track of my new CD
New CD: UNLEASHED
Its official, UNLEASHED will be released Valentines Day February 14th 2017! I'm so psyched!!!!
Coming Up For Dave Fields
Dec 31st NYE at RANCHERO CANTINA! Emerson NJ
SPEND NEW YEARS EVE WITH DAVE FIELDS!
Its gonna be over the top!:
*$50 gets you a bottomless buffet and champagne! Paying jammers will have opportunity to sit in with band! Featuring: Tara Layne, Duchess Di and Mark Marshall!
http://www.rancherocantina.com/events/new-years-eve-2017-dave-fields-and-dj-mike-donne/
Happy holidays again!
-Dave
http://www.davefields.com/wp-content/uploads/2015/06/davefeatured.jpg
172
499
davefields
http://www.davefields.com/wp-content/uploads/2018/06/davefields.jpg
davefields
2016-12-23 02:34:34
2016-12-23 02:35:31
Happy Holidays and Last Minute Laundromat Bar show