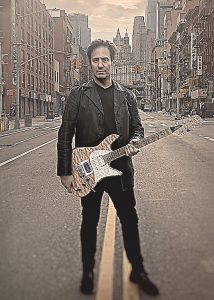 FORCE OF WILL FaceBook live CD Party Thursday 7:30pm
Hi Everybody!
Before I get to the show, check out this review on FORCE OF WILL by Simon Redley Music Republic Magazine:
https://musicrepublicmagazine.com/2020/07/dave-fields-force-of-will-fmi-records-3rd-july-2020/
This Thursday July 9th at 7:30pm FORCE OF WILL FaceBook live stream CD party. This is my first FaceBook live streaming show! Featuring a guest appearance by Jasper Fields on altosax and practical jokesLOL!
Here is the link to my FaceBook page:
https://www.facebook.com/fieldsmusic
Here is the link to the FaceBook live event:
https://www.facebook.com/events/721937968566127/
You can stream the title track FORCE OF WILL here on my ReverbNation page:
https://www.reverbnation.com/davefields
(Featuring: Kenny Soule (drums), Buddy Allen (bass) and Vlad Barsky (keys))
HERE ARE SOME OF THE WAYS YOU CAN BUY OR STREAM FORCE OF WILL
Physical CD's:
Dave Fields Official Website:
http://www.davefields.com/store/
Amazon: FORCE OF WILL BE AVAILABLE just waiting on Amazon
https://www.amazon.com/s?k=dave+fields+force+of+will&i=popular&crid=28ETIDQGHTOVZ&sprefix=Dave+fields+force+%2Cpopular%2C143&ref=nb_sb_ss_i_1_18
Streaming Services:
Spotify:
https://open.spotify.com/artist/2ZHM1FdVdVfpxzuqRNPVjf?si=Bm5UbmJvQvWIoyZWWbl1cw
Apple Music:
https://geo.music.apple.com/us/artist/dave-fields/4783601?mt=1&app=music
Amazon Music:
https://www.amazon.com/Dave-Fields/e/B001LHVFHI?&tlws=-releasedate
Upcoming Shows
Saturday August 9th at 7:pm
VILLA CAPRI 51 W Court St Doylestown PA. This will be my LIVE SHOW Doylestown PA CD party! Villa Capri offers the best gourmet pizza Doylestown PA has to offer! I LOVE THIS PLACE!
http://letsgotovilla.com
Here's link to my latest video FORCE OF WILL. Please check it out and please subscribe to my YouTube channel if you haven't done so already! The 500th subscriber will receive a free Dave Fields tee shirt.
https://www.youtube.com/davefields
Thank you everybody for all your support over the years which has allowed me to release FORCE OF WILL! And again… Stay Safe! Sending much love! Thank you everyone!
-Dave
Dave Fields Plays
Fodera Guitars
http://www.davefields.com/wp-content/uploads/2015/06/davefeatured.jpg
172
499
davefields
http://www.davefields.com/wp-content/uploads/2018/06/davefields.jpg
davefields
2020-07-07 12:51:51
2020-07-07 12:51:51
FORCE OF WILL FaceBook live CD Party Thursday 7:30pm