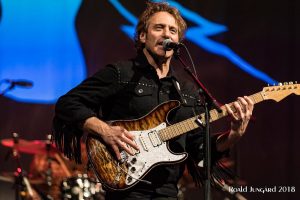 (Dave Fields – SINUS Bodø Norway photo Roald Jungard)
Hi Everyone!
Let me start out by saying it was a great honor to be on the stage with the legend Lucky Peterson. He was spectacular and we had a blast. His wife Tamara was equally amazing!
This week there's no rest for the weary in Dave Fields world but hey, have guitar will travel! This week my best buddy Andy Huenerberg and I will be heading out in my car to meet up with drummer Lee Venters at DAYTONA BIKE WEEK for three big shows!
Wednesday March 14th THE IRON HORSE 1061 US-1 Ormond Beach FL 6pm
Thursday March 15th Double Header:
DESTINATION DAYTONA 1637 N US Highway 1 Ormond Beach FL 11am
DOG HOUSE 3400 S Nova Rd Port Orange FL 6pm
Coming Up For Dave Fields
Mar 22nd WNTI CENTENARY COLLEGE 6:45pm
http://wnti.centenaryuniversity.edu
Mar 23rd STANHOPE HOUSE
Mar 24th SALUGGI'S EAST NY NY
Mar 28th Depart for Norway West Coast Tour Pt2
Mar 29th GRÅ BAR Trondheim NO
Mar 30th Silverfox Molde
Mar 31st Easter Blues Festival VALLDAL NO
Apr 1st SMUTTEN Ålesund NO
Apr 5th-7th FJORDLINE BLUES CRUISE Bergen NO
Apr 7th BLUENOTE Sandefjord NO
Apr 9th Return from Norway West Coast Tour Pt2
I look forward to seeing you soon!
-Dave
http://www.davefields.com/wp-content/uploads/2015/06/davefeatured.jpg
172
499
davefields
http://www.davefields.com/wp-content/uploads/2018/06/davefields.jpg
davefields
2018-03-13 00:30:55
2018-03-13 00:30:55
Daytona Bike Week!