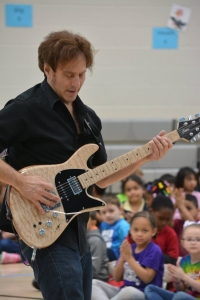 (Dave Fields – Blues in the Schools, Rockford IL – Photo Rick Davis)
I love this week because it's the Aries birthday show week:
Thursday April 11th
First of all, it's my actual birthday! Two big events that day:
7pm Jacque's Giant Music Show! Live with Jacque Roche
http://www.pawlingpublicradio.org
8pm VICTOR'S, 500 Commerce Ave, Hawthorne with Roger Zee and Rudy Feinauer. Bring your axe!
https://victorshawthorne.com
Saturday April 13th CAPRI RESTAURANT, 145 Mullberry St NY 8pm Dave's big Aries bash featuring Robin Bacote and Dan Cazio plus more TBA!
https://www.facebook.com/capriristorantenyc/
Coming Up For Dave Fields:
Thursday April 18th DEBONAIR MUSIC HALL, 1409 Queen Anne Rd Teaneck NJ 7pm Dave Fields and Friends sponsored by Big City Blues Magazine featuring: Mark Marshall, Rosie G, Rich Borge and opening act Elisa Brown
https://debonairmusichall.showare.com/eventperformances.asp?evt=446
Saturday April 20th THEODORE'S, 201 Worthington St, Springfield MA my first ever gig at Theodore's! Featuring Liviu Pop
http://theodoresbbq.com/event/dave-fields-band/?instance_id=1849981
Wednesday April 24th DARYL'S HOUSE, 130 Route 22, Pawling NY this is quite possibly the biggest Dave Fields show of the season! First act will be Blue Confusion and I will be going on at 8:15pm!
https://www.ticketweb.com/event/the-blue-confusion-dave-fields-daryls-house-tickets/9229895?pl=daryl
I hope to see you soon!
-Dave
Dave Fields Plays
Fodera Guitars
www.fodera.com
http://www.davefields.com/wp-content/uploads/2015/06/davefeatured.jpg
172
499
davefields
http://www.davefields.com/wp-content/uploads/2018/06/davefields.jpg
davefields
2019-04-10 12:49:00
2019-04-10 12:49:00
Dave's Aries Birthday Week Shows!