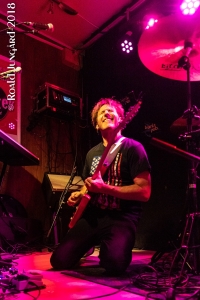 Thursday Dec 6th Dave Fields and Friends 8pm CLUB BONAFIDE 212 E 52nd St NY NY
NY Boss Guitar Man and NY Blues Hall of Fame inductee Dave Fields along with Fodera Guitars present a night of Fodera Guitar artists. Featuring: NY bass great Reggie Young and his band, opening act Blues Ball and special guest award winning singing sensation Ty Stephens plus more TBA.
Dave Fields has performed and continues to perform all over the US and the world. His awards include: Best Self Produced CD 2006 at the IBC for producing BACK IN BLUESVILLE, 2009-2010 Mojo Boogie Award, Big City Blues Magazine Happy To Have The Blues Lifetime Achievement Award. Legendary British bluesman John Mayall recorded Dave's song "Train To My Heart" on his CD "TOUGH". Dave's CD's TIME'S A WASTIN', ALL WOUND UP, DETONATION, ALL IN and UNLEASHED have all garnered international success.
Grammy award winning, session bassist, and Fodera bass artist Reggie Young and his unorthodox style of bass playing has turned heads in the music industry which unleashed gigs with stars such as Lenny Kravitz, Alicia Keys, Paul Shaffer, Stevie Wonder and many more. Born in New York, Reggie began playing bass at age 12.
Opening act Bluesball is a Brooklyn NY blues band featuring Jim Ceribello, Joey Lauricella and new members Norm Good on guitar, Lou DiNatale on keyboards, and Thino Cacciolo on drums.
Award winning singer/actor Ty Stephens has performed around the world, gaining an international audience with a cool, urban tinged adult contemporary sound, based on jazz, funk and R&B.
http://clubbonafide.com/event/dave-fields-friends-sponsored-by-fodera-guitars/
Saturday Dec 8th
Dave Fields returns to DADDY JACKS, 181 Bank St New London CT. Featuring Tom DeFaria and Joey Lauricella on bass!
Coming Up For Dave Fields
Dec 13th VICTOR'S Hawthorne NY
Dec 14th TAMBOUR Brooklyn NY
Dec 15th THE BLUE HORSE Highland Park NJ
Dec 21st TWISTED TAIL Philadelphia PA
Dec 22nd STANHOPE HOUSE Xmas Party! Stanhope NJ
I hope to see you soon!
-Dave
Dave Fields Plays
Fodera Guitars
www.fodera.com
http://www.davefields.com/wp-content/uploads/2015/06/davefeatured.jpg
172
499
davefields
http://www.davefields.com/wp-content/uploads/2018/06/davefields.jpg
davefields
2018-12-03 03:37:06
2018-12-03 03:37:06
Club Bonafide This Thursday Dec 6th