http://www.app.com/story/entertainment/music/2015/02/20/aint-nothin-blues-palooza-fundraiser/23632457/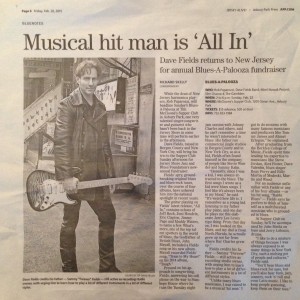 A MUSICAL HIT MAN IS "ALL IN"
While the dean of New Jersey harmonica players, Rob Paparozzi, will headline Sunday's Blues-A-Palooza at Tim McCloone's Supper Club in Asbury Park, one very talented singer-songwriter and guitarist who hasn't been back to the Jersey Shore in some time will perform earlier in the afternoon.
Dave Fields, raised in Bergen County and New York City, will bring his trio to the Supper Club Sunday afternoon for Jersey Shore Jazz and Blues Foundation's now-annual fundraiser.
Fields' spry, groundbreaking original blues and blues-rock tunes, over the course of four albums, have ushered him into the national spotlight in recent years.
The guitar playing on Fields' latest release, "All In," contains echoes of Jeff Beck, Jimi Hendrix, Eric Clapton, Jimmy Page and Muddy Waters, to name a few. What's more, one of the top talent spotters in the world of blues, the Godfather of British Blues, John Mayall, included a Fields song on his new album. Mayall recorded Fields' song, "Train to My Heart" on his 2014 album, "Tough."
Pressed on his approach to songwriting, Fields, answering his cell phone on the way to Stanhope House where he runs the Tuesday night jam session with Johnny Charles and others, said he can't remember a time he wasn't interested in blues. His father ran commercial jingle studios in Bergen County and in New York City, so as a kid, Fields often found himself in the company of people like Stevie Wonder and Sammy Kahn.
"Honestly, since I was a kid, I was always attracted to the blues. The first songs I wrote as a kid were blues songs. I feel like it's always been in my blood," he said. "It's weird how life is. I remember as a young kid listening to my father play piano, and one day he plays me this elaborate Jerry Lee Lewis type thing. From that day on, I was hooked on the blues, and my dad is from North Florida, he actually grew up not far from where Ray Charles grew up."
Fields credits his father — Sammy "Forever" Fields — still active as recording studio owner, with urging him to learn how to play a lot of different instruments in a lot of different styles.
"Unlike many blues musicians, I was raised to be a musical 'hit man.' I got to do sessions with many famous musicians and producers like Tommy James and Ahmet Ertegun," he explained.
After graduating from the Berklee College of Music, Fields spent time lending his expertise to musicians like Steve Jordan, Alex Foster, Dave Valentin, blues singer Roxy Perry and Billy Martin of Medeski, Martin and Wood.
For an audience unfamiliar with Fields or any of his four albums —or his hit song, "Rabbi Blues" — Fields says he prefers to think of himself as a multifaceted musician who is grounded in blues.
At Supper Club on Sunday, he'll be accompanied by John Meola on bass and Jerry Lobozzo, drums.
"I like to do a mixture of things because I was always exposed to so many things in New York City, such a melting pot of people and cultures," Fields said.
"You'll hear blues and blues-rock for sure, but you'll also hear funk, jazz, country, rock 'n' roll and even Latin music. I like to keep people guessing, keep them on their toes."
BLUES-A-PALOOZA
http://www.davefields.com/wp-content/uploads/2015/06/davefeatured.jpg
172
499
davefields
http://www.davefields.com/wp-content/uploads/2018/06/davefields.jpg
davefields
2015-02-23 20:21:28
2015-02-23 20:21:28
Check Out This Article in The Asbury Park Press by Richard Skelly