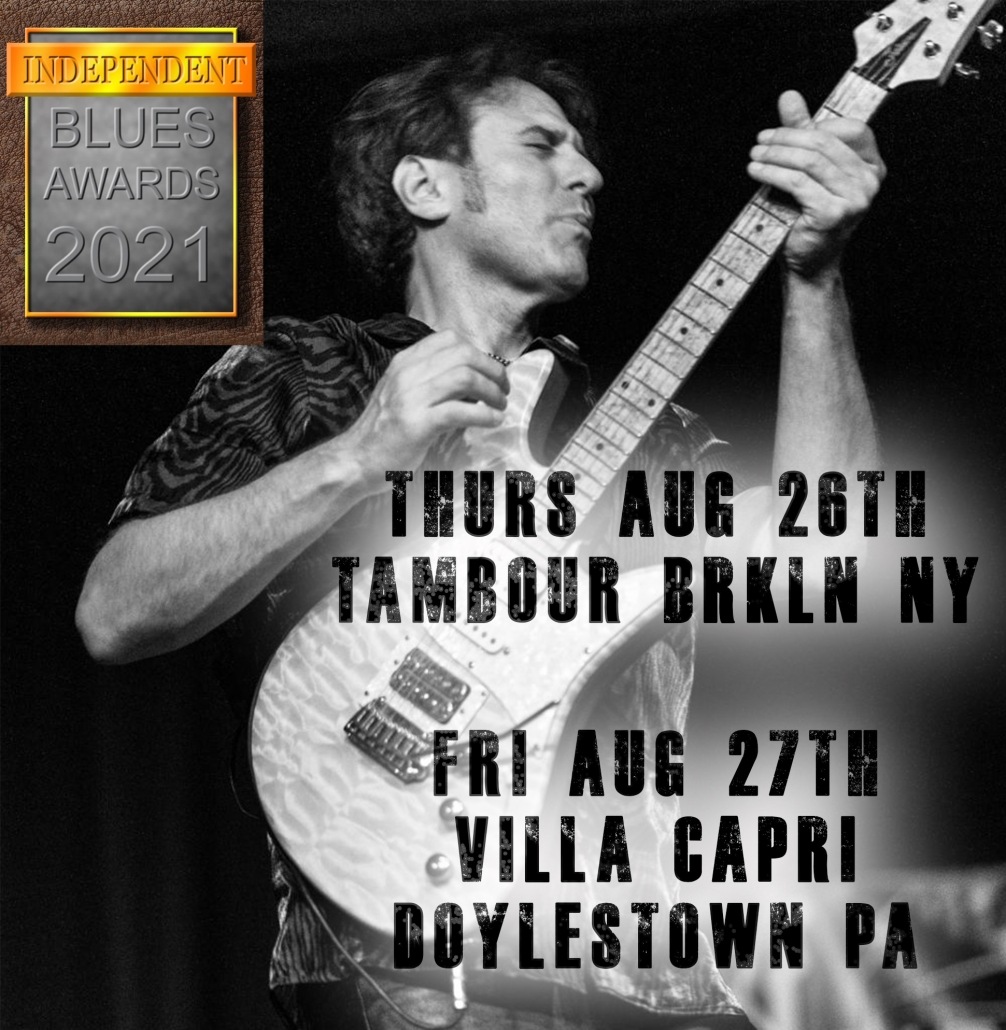 (Photo Tom Kaszuba)
Hey! There are two great Dave Fields shows this week:
Thursday Aug 26th TAMBOUR 652 5th Ave Brooklyn NY 6-10pm Burr Johnson joins me as a special guest for Tambour Summer Thursdays! Also featuring: Joey Lauricella/bass, Nick DiFrisco/drums and the amazing Bob Franceschini/sax AND Chef Adam Torres's incredible menu!
https://www.tambournyc.com
Friday Aug 27th VILLA CAPRI 51 W Court St Doylestown PA 7-10pm, I return for a special solo show at my favorite Doylestown PA venue!
http://letsgotovilla.com
Check out the review I wrote being the featured artist for the month of August month at Osiamo.com!
http://www.osiamo.com/Newsletter-2021-August
The voting ends August 30th for best independent Blues Rock: BAND, CD AND SONG for "Force of Will" by MakingAScene.org. at this link!
https://www.makingascene.org/independent-blues-awards-2021-vote-now/
Brand New Video Premiers Today!
Here is a video from my show at The Blues and Gastro Fest in Tusnad Romania:
LET'S GO DOWNTOWN featuring: Liviu Pop/drums and Tony Tino/bass:
https://youtu.be/1em-vNvHgk8
Upcoming Shows
Sept 3rd THE GREAT NOTCH INN 400 US Route 46, Woodland Park NJ
Sept 4th CURRY ON PURDY 7 Purdy St, Harrison NY with Roger Zee
Sept 11th VILLA CAPRI 51 W Court St, Doylestown PA
Sept 26th SKIPFEST 55 George St, Allendale NJ AAF featuring Dave Anderson and Thierry Arpino
Oct 2nd TRIAD THEATER West 72nd St NY NY
Please check out my Spotify page:
https://promocards.byspotify.com/share/d05e025c162a9fe110d91248b0798da8a78c66ed
Please everyone, stay safe, sending much love.
-Dave
Dave Fields Plays
Fodera Guitars
http://www.fodera.com
D'Addario Strings
Dave Fields Artist Page
Mooer Pedals
http://www.osiamo.com/Dave-Fields
Redplate Amps
https://www.redplateamps.com
http://www.davefields.com/wp-content/uploads/2015/06/davefeatured.jpg
172
499
davefields
http://www.davefields.com/wp-content/uploads/2018/06/davefields.jpg
davefields
2021-08-23 12:44:54
2021-08-23 12:44:54
Brooklyn and Doylestown this week!