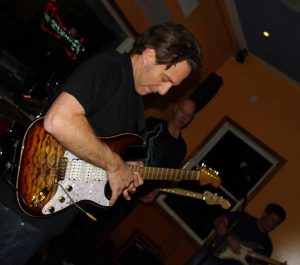 (Dave Fields at VICTORS)
As we wave May goodbye, June comes in with a bang with three cool shows.
I return to Westchester to play June 1st VICTOR'S 500 Commerce St Hawthorne NY with Roger Z and Rudy Feinauer. I LOVE playing at Victor's! The food, the people, the hang, its always a blast! 8:30pm
https://www.facebook.com/Victors500/
June 3rd I am so thrilled and honored to be part of Long Island guitar legend Kerry Kearney's SUMMERTIME BLUES & BBQ fest at The Maples 10 Ryerson Ave MANORVILLE NY. Kerry is one of the NY area's great guitarist and his slide guitar playing always gets me in the heart, every note that he plays has the most power, emotion and soul. I can't to share the stage with him!!!! 4pm
https://www.facebook.com/The-Maples-155112951193770/
June 4th BITTER END 147 Bleecker St NY NY I will be doing a special Dave Fields jazz-fusion show at 10pm featuring Erik Boyd on bass and Lee Jeffryes on drums!
BIG SHOW NEXT WEEK!
June 8th MEXICALI LIVE 1403 Queen Anne Rd TEANECK NJ with opening act Rosie G and Friends at 8pm then me at 9pm!!!! I will have the Albany areas great blues diva the amazing Trish Anderson as my special guest!
http://www.ticketweb.com/t3/sale/SaleEventDetail?dispatch=loadSelectionData&eventId=7309195
NEW VIDEO
NOT GONNA LET YOU GET AWAY live
https://youtu.be/KSjE1Yi4GB0
My latest CD UNLEASHED
http://www.cdbaby.com/davefields5
Coming Up For Dave Fields
June 8th MEXICALI LIVE TEANECK NJ
June 10th PINNACLE RIDGE WINERY KUTZTOWN PA
June 11th 1ST ANNUAL NEW LONDON BLUES AND BREWS FEST
June 16th LACONIA MOTORCYCLE WEEK
June 17th THE BROKEN SPOKE Laconia NH
June 27th THE ALFA JAZZ FESTIVAL Lviv Ukraine
June 30th BLUES w LESNICZOWCE Mirachowo Poland
-Dave
http://www.davefields.com/wp-content/uploads/2015/06/davefeatured.jpg
172
499
davefields
http://www.davefields.com/wp-content/uploads/2018/06/davefields.jpg
davefields
2017-05-30 23:37:35
2017-05-30 23:37:35
Big week of shows and Mexicali next week!