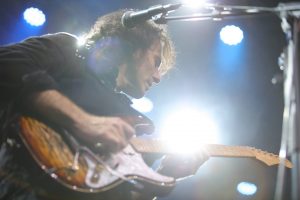 (Dave Fields Carribean Club Kiev Ukraine Photo by Володимир Осипенко)
I'm sorry… I've been so busy lately working I haven't had time to write LOL! January has been a month of organizing the next new exciting Dave Fields things like reconnecting with my dear friend Norwegian drummer Kåre Amundsen, who will be playing with me in these upcoming shows in Norway the end of February.
I've also been in the studio doing demos for my new CD of which I hope to release in the next year or so. You will be hearing more about that in the upcoming weeks.
I'm excited about my upcoming shows!
Next week, Friday Feb 2nd I will be at NJ's legendary music venue STANHOPE HOUSE Stanhope NJ 45 Main St Stanhope NJ. With me will be The Ferocious Band: the amazing Buddy Allen on bass and Lee Jeffryes on drums. Opening acts will be Trevor B Power, No Bad Days and Matthew Colin. Its going to be an amazing night of music!!!
http://www.ticketfly.com/event/1620138-dave-fields-trevor-b-power-stanhope/
Saturday Feb 3rd we will be at the EASYRIDER BIKE SHOW Atlantic (Convention Center) City NJ from 10:30-11:30am & 1:45-2:45pm. Being a motorcyclist I love playing for all my motorcycle friends!
http://www.outlawnation.com/easyriders-bike-shows/
This Sunday Jan 28th I will be accompanying Paul Shapiro as a duo as he mixes it up with a fun evening of jazz and klezmer at LES ENFANT BOHEME NY NY 7-9pm. The food is French and will knock your doors off!
Coming Up For Dave Fields
Feb 8th VICTOR'S Hawthorne NY
Feb 23rd NARVIK BLUES KLUBB Narvik Norway
Feb 24th BLUES INVEST Melbu Norway
Mar 2nd BODØ BLUES KLUBB Bodø Norway
Mar 3rd LYSGAARD, Skjerstad Norway
Mar 9th TWISTED TAIL Philadelphia PA
Mar 10th DADDY JACKS New London CT
Mar 14th THE IRON HORSE 4pm Daytona Beach FL
Mar 15th DESTINATION DAYTONA 3pm
Mar 23rd STANHOPE HOUSE
I'm so excited about 2018! It's going to an amazing year!!
-Dave
http://www.davefields.com/wp-content/uploads/2015/06/davefeatured.jpg
172
499
davefields
http://www.davefields.com/wp-content/uploads/2018/06/davefields.jpg
davefields
2018-01-24 16:38:49
2018-01-24 16:38:49
Big Shows Next Week!